Emmor Trego Weaver
Born: 6 Jul 1786, Chester PA

Marriage (1): Mary Boswell about 1809 in Philadelphia PA

Died: 2 Oct 1860, Salem OH
General notes:
Silversmith
Events in his life were: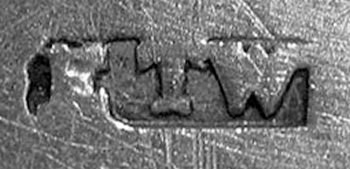 He worked in 1803-1833 as a silversmith in Philadelphia PA at 17 Elfredth's Alley c 1808, Loxley's Court in 1820, and 20 North Fourth Street by 1822.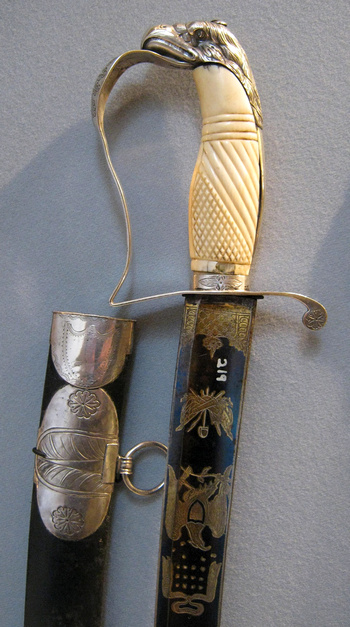 Sword hilt and scabbard, c 1810
Metropolitan Museum of Art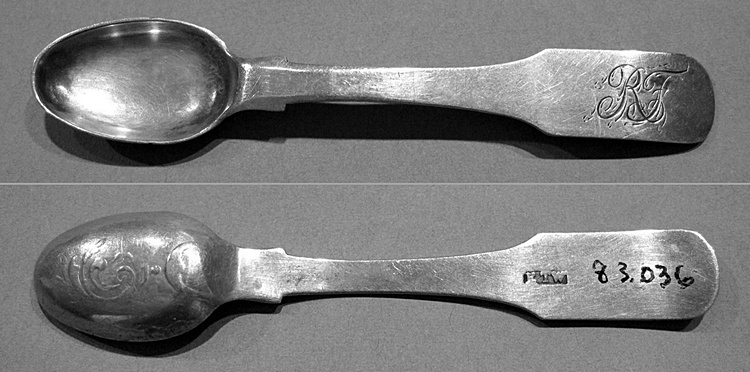 Salt spoon, c 1810
Winterthur Library
l: 2.875"
Engraved RF on handle; swaged spray on bowl back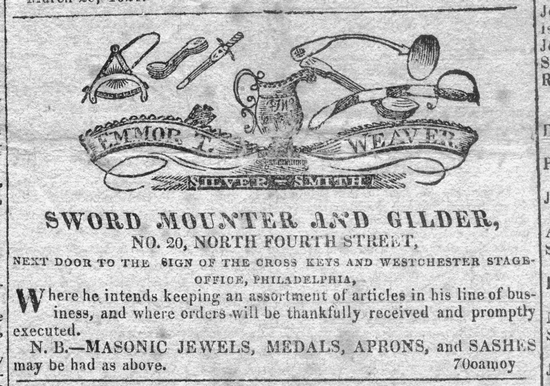 Advertised in the Village Record, or Chester and Delaware Federalist (Westchester PA), 24 Apr 1822,
SWORD, MOUNTER AND GILDER,
NO. 20, NORTH FOURTH STREET,
NEXT DOOR TO THE SIGN OF THE CROSS KEYS AND WESTCHESTER STAGE-OFFICE, PHILADELPHIA,
Where he intends keeping an assortment of articles in his line of business, and where orders will be thankfully received and promptly executed.
N. B. – MASONIC JEWELS, MEDALS, APRONS, and SASHES may be had as above.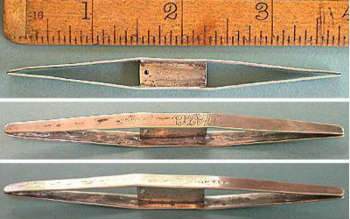 Shuttle
Private Collection
l: 3 3/4"
Emmor married Mary Boswell about 1809 in Philadelphia PA. (Mary Boswell was born on 17 Apr 1786 in Philadelphia PA and died on 27 Oct 1867 in Salem OH.)