Jonathan Packard
Born: 31 Aug 1789, Charlemont MA

Died: 9 May 1854, Rochester NY
General notes:
Silversmith
Events in his life were:


He worked in 1811 as a silversmith in Northampton MA 3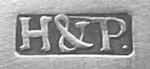 He was a partner in 1812-1814 with Richard Huntington in Northampton MA as HUNTINGTON & PACKARD. 3

He worked in 1814-1818 as a silversmith in Albany NY 3
He was a partner circa 1815 with ? Brown in Albany NY as PACKARD & BROWN. 3
He was a partner in 1818-1819 with Salmon Scofield in Rochester NY as PACKARD & SCOFIELD. 3
He worked in 1819-1850 as a silversmith in Rochester NY
Listed in the 1827 city directory as a goldsmith on Exchange Street. 3
Rochester NY, May 1854: he was assaulted by three drunken men while on his way home and severly beaten, dying several days later. The silversmith John Kedzie sat as a member of the coroner's jury investigating the case.