Asher Brown Durand
Born: 21 Aug 1796, South Orange NJ

Died: 17 Sep 1886, Maplewood NJ
General notes:
Engraver

He acquired in his father's workshop some knowledge of the elementary processes of engraving. At first he confined his attention to cutting initials on spoons and similar objects. His earliest attempts at engraving prints were made on plates rolled out of copper coins and with gravers of his own make. The success of these efforts led to a commission to copy a portrait on the lid of a snuffbox.
In 1812 he was apprenticed to Peter Maverick, an engraver in New York City, and five years later he was admitted into partnership with his master. His first original work was a "Beggar," after a painting by Samuel Waldo, and when John Trumbull painted the "Declaration of Independence," Charles Heath, of London, was to have engraved it, but, business complications having arisen, the picture was given to Durand. He worked steadily at it for three years, and the best-known engraving in the United States was the result. His reputation was at once established and his work grew in demand. In 1832 Durand dissolved his profitable engraving business and entered into a short, successful period as a portrait painter. A financial panic in 1837 combined with encouragement from Thomas Cole led him to try landscape painting.
He was one of the founders of the National academy of design in 1826, and after the resignation of Sanmel F. B. Morse, in 1845, was its president till 1861.
Events in his life were: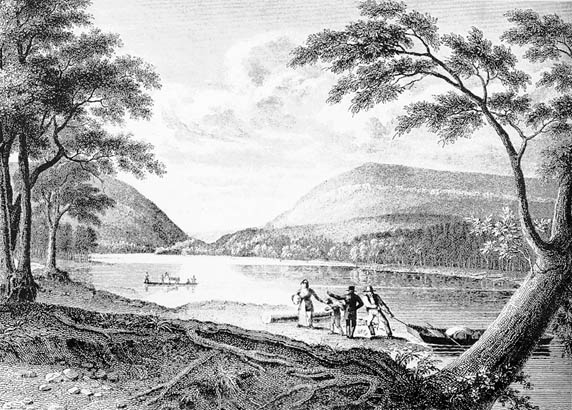 Delaware Water Gap, 1830
New York Public Library

He worked circa 1835 as an engraver in New York City NY
Listed in Longworth's City Directory for 1835 at 254 Broadway.