Abel Buell
Born: 1 Feb 1742, Killingworth CT

Marriage (1): Mary Chittenden in 1761

Marriage (2): Aletta Devoe on 8 Mar 1771 in New Haven CT

Died: 1822, New Haven CT
General notes:
Silversmith and engraver
Events in his life were: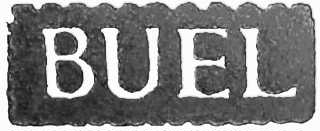 He worked in 1762 as a goldsmith in Killingworth CT 3
1762: At the age of 20, he was detected in altering a five shilling note to five pounds. So ingeniously was it done that it could be discovered only by comparing the stubs from which all the colony bills were issued.
Matthew Griswold, the king's attorney (and Buell's third cousin), conducted the prosecution. As it was his first offense, and because of his previous good character, he was dealt with leniently. His punishment consisted of imprisonment, cropping, and branding. The tip of his ear only was cut off, held on the tongue, and replaced, where it grew on. He was branded on the forehead, so high up that the hair afterward covered the scar. But the hot iron was held on long enough to say, "God save the King." After this he constructed a lapidary machine, believed to have been the first used in this country. With this machine he constructed a very beautiful ring, which was presented to Mr. Griswold, the king's attorney, and his pardon was obtained.
Advertised in the Boston Gazette (Boston MA), 7 Dec 1767, as 'Jeweller and Lapidar.' 3
Master to Samuel Shethar 1768 in Killingworth CT. Shethar later traveled to Florida with him. 14
New Haven CT, 1770: ran type foundry 3
1774-1776: removed to Florida to escape debt suits in Connecticut. 3
1778: returned to Connecticut, active in shipping, engraving, and mint business. 3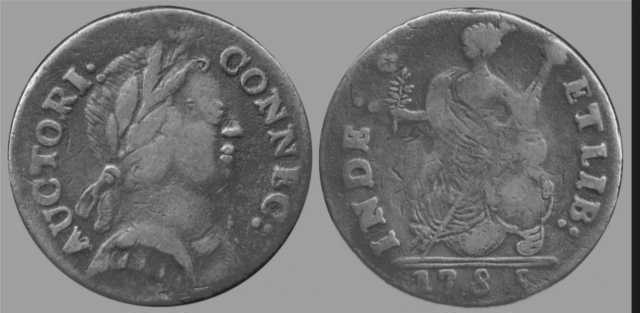 Connecticut copper cent, 1785
Private Collection
One of some twenty mailed bust right varieties created by Abel Buell in 1785 using device punches for the bust and the figure of Liberty.

1793: returned to Boston and opened cotton firm. 3
Advertised in the Connecticut Journal, 18 May 1796, announcing the opening of silversmith's shop on College Street. Later moved to shop 'at the sign of the Coffee Pot' at Church and Chapel Streets 3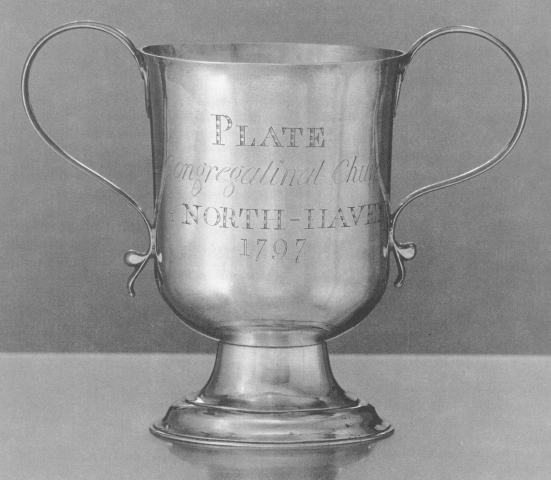 Cup, c 1797
Yale University 13
h: 5 2/16"
d: 3 1/8" (base)
wt: 8 oz, 16 dwt
One of an original set of five -- four by Buell, one by Merriman & Bradley
He was a partner in 1798 with ? Mix in New Haven CT as BUEL & MIX. 3
Advertised in the Hartford City Directory (Hartford CT), 1799, as a whitesmith on "Main street, opposite North Meeting House: Silver plated, gilt, steel, brass and iron hilted
swords and dirks pikes and military flags."
He was a partner in 1799-1800 with David Greenleaf in New Haven CT as BUEL & GREENLEAF. 3
Advertised in the American Mercury, 16 Apr 1801, announcing move to Hartford. 3
Advertised in the Farmer's Herald, 31 Mar 1810, announcing move to Stockbridge Massachusetts and the opening of shop. 3
Flynt & Fales:, . 3 Returned to New Haven where he died in an almshouse.
Abel married Mary Chittenden, daughter of Ebenezer Chittenden and Mary Johnson, in 1761. (Mary Chittenden was born on 25 May 1742 in Guilford CT.)
Abel next married Aletta Devoe on 8 Mar 1771 in New Haven CT.