Philo Dubois
Born: 30 Mar 1812, Catskill NY

Marriage (1): Sara Dubois

Died: 9 Mar 1887, Buffalo NY
General notes:
Silversmith
Events in his life were:
He worked in 1841-1845 as a silversmith in Buffalo NY employed by John Smith Putnam. He is listed in the 1842 city directory as a ". . . silversmith at J. S. Putnam's" 4
He worked in 1845-1881 as a silversmith in Buffalo NY joining, and eventually succeeding, his old master John S. Putnam. Listed, with his brother Frederick and Thomas Burr Leavenworth, in the 1850 city directory at 15 East Swan Street. By 1855, he was at 11 East Swan. 4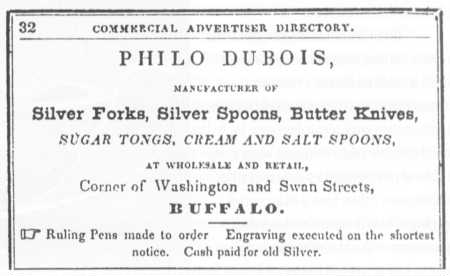 Advertised in the Buffalo Advertising Directory (Buffalo NY), 1847.
Philo married Sara Dubois, daughter of Unknown and Unknown. (Sara Dubois was born about 1816 in Catskill NY.)