Nathaniel Jenks Gilman
Born: 10 Apr 1819, North Yarmouth ME

Died: 5 Mar 1867, Portland ME
General notes:
Silversmith, jeweler, and watchmaker
Events in his life were:

He was a partner in 1844-1846 with Robert Follansbee in Portland ME as GILMAN & FOLLANSBEE from a shop at Old No. 128 Middle Street "at the corner of Union Street." In addition to watches and jewelry, their wares included "silver spoons, spectacles, gold and silver pencil cases, and diamond pointed gold pens. Silver and Britannia ware, butter knives, thimbles, purses, cutlery, combs, brushes, feather dusters, carpet bags, card receivers, together with a prime assortment of useful and fancy articles."

He worked circa 1850 as a jeweler in Portland ME
Listed in the city directory at 128 Middle Street.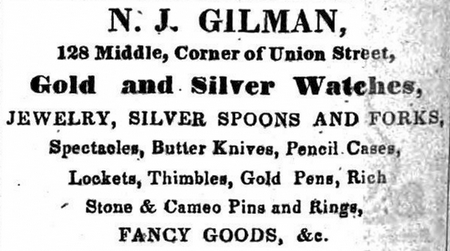 Advertised in the The Portland Reference Book and City Directory (Portland ME), 1850,