Henry Stanton
Born: 16 May 1803, Hudson NY

Marriage (1): Susan Weld Walker on 9 Aug 1838 in Providence RI

Died: 2 May 1872, Rochester NY
General notes:
Silversmith, jeweler, and watchmaker
Events in his life were:
Advertised in the Rochester Album (Rochester NY), 21 Feb 1826,
"Clock & Watchmaker, Silversmith & Jeweller,
Three Doors North of The Bank
Has For Sale
Gold and Silver Watches,
Watch-Chains, Seals and Keys,
Britannia and plated Tea-pots,
Silver tea, table, and dessert Spoons,
Plated and Britannia do.
Silver and steel mounted Spectacles;
Also, An Assortment Of Jewelry.
Clocks and Watches of every description repaired,
and every other kind of work in his line executed
with neatness and despatch, on moderate terms."

He was a partner in 1827-1841 with William Penn Stanton in Rochester NY as STANTON & BRO. and later W. P. & H. STANTON, with a shop at 20 Exchange Street. 18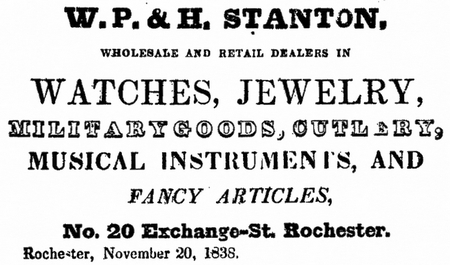 Advertised in the Rochester City Directory (Rochester NY), 1838,
Henry married Susan Weld Walker, daughter of Nathaniel Walker and Mary Horton, on 9 Aug 1838 in Providence RI. (Susan Weld Walker was born on 23 Oct 1812 in Providence RI.)