Charles Farley
Born: 14 Jun 1791, Ipswich MA

Marriage (1): Rebecca Faulkner Hamlin on 6 Sep 1826 in Portland ME

Died: 20 Dec 1877, Portland ME
General notes:
Silversmith and jeweler
Events in his life were: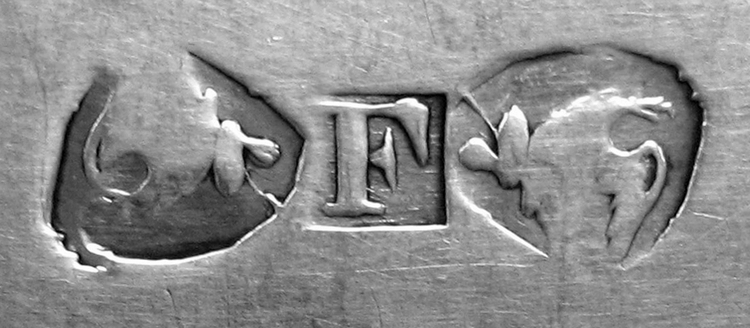 Advertised in the Portland Gazette and Eastern Argus (Portland ME), 1813, from shop at 4 Union Row, one door west of Nathaniel Cross, noting the manufacture and sales of "jewelry and silverware of all kinds." 3

He was a partner in 1814-1818 with Eleazer Wyer in Portland ME as WYER & FARLEY. When this partnership was dissolved, the business was continued by Wyer. 4

He worked in 1818-1830 as a silversmith in Portland ME
After some shrewd investments in the Cuban sugar trade paid off heavily, he left his trade to work as a trader. Reversals forced him back to ground and after failing as a farmer, he settled in Harrison ME, where he build a very successful wire manufacturing factory. By 1855, his various business ventures failed and he returned to Portland, opening a small jewelry establishment. 4
Master to Epaphras Kibby Dodge c 1827 in Portland ME.
Dodge was considered a good workman, but was caught stealing money, which he confessed having done a number of times. In 1835 he legally changed his name to Thomas Kibby Dodge.
Master to Cyrus Hamlin 1827 in Portland ME.
Hamlin did not take to the trade and left after a few years to take up ministry.
Charles married Rebecca Faulkner Hamlin, daughter of Major Hannibal Hamlin and Susannah Faulkner, on 6 Sep 1826 in Portland ME. (Rebecca Faulkner Hamlin was born on 25 Feb 1805 in Waterford ME and died on 6 Nov 1878 in Waterford ME.)