Deacon Almer Hall
Born: 10 Sep 1793, Wallingford CT

Marriage (1): Clarissa C. Hall in Wallingford CT

Marriage (2): Fanny Silliman Ives

Died: 15 Jan 1865, Wallingford CT
General notes:
Pewtersmith and silverplater
Events in his life were:
He worked in 1827-1834 as a pewtersmith in Wallingford CT 11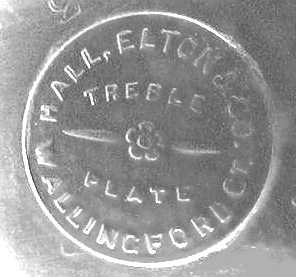 He was a partner in 1847-1865 with Jacob Hall and William Elton in Wallingford CT as HALL, ELTON & Co, manufacturing German silver and britannia wares. 12
Advertised in the Trow's New York City Directory (New York City NY), 1860, as "Manufactures of every description of German Silver Spoons & Forks. Also, Plated Spoons and Forks of every variety of pattern, and richly plated on the best quality of German Silver. Office with Scoville Manufacturing Co., 36 Park Row and 4 Beekman Street."
Almer married Clarissa C. Hall, daughter of Unknown and Unknown, in Wallingford CT. (Clarissa C. Hall was born on 28 Nov 1793 in Wallingford CT.)
Almer next married Fanny Silliman Ives, daughter of Unknown and Fanny Silliman. (Fanny Silliman Ives was born on 17 Sep 1802 in Meriden CT.)