Michael Wigglesworth
Born: 28 Oct 1631, Upminister Essex England

Marriage (1): Martha Mudge in 1680 in Malden MA

Marriage (2): Sybil Sparhawk on 23 Jun 1691 in Malden MA

Died: 10 Jun 1705, Malden MA

Buried: Massachusetts
General notes:
Graduated in 1651 from Harvard College where he was a tutor and Fellow, 1652-1654. Pastor at Malden MA from 1656 till his death. Described by Cotton Mather as "a little feeble shadow of a man." Took up medicine and had a successful practice. Returned to Harvard as a Fellow, 1697-1705. He authored The Day of Doom; or a Poetical Description of the Great and Last Judgement in 1662, which remained for nearly a century the most popular work written in America.
Events in his life were: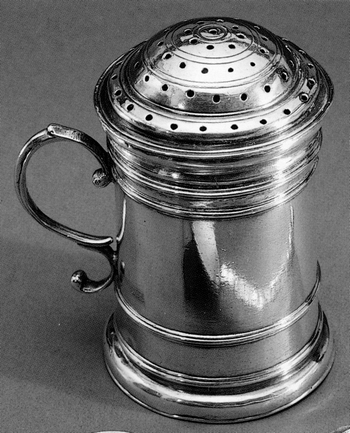 Pepper pot by John Coney, c 1700
Private Collection
h: 3 3/8"
wt: 3 oz
Engraved W.
Michael married Martha Mudge in 1680 in Malden MA. (Martha Mudge was born in 1662 in Malden MA, died on 11 Sep 1690 in Malden MA and was buried in Malden MA.)
Michael next married Sybil Sparhawk on 23 Jun 1691 in Malden MA. (Sybil Sparhawk was born in 1655 in Brighton Cambridge Middlesex MA, died on 6 Aug 1708 and was buried on 9 Aug 1708 in Cambridge MA.)