Philo Baker Gilbert
Born: Abt 1816, Connecticut

Marriage (1): Catherine Everett in New York City NY

Died: 18 Jan 1875, Richmond VA
General notes:
Silversmith
Events in his life were:
He worked circa 1830-1868 as a silversmith in New York City NY
Listed in the 1840 city directory at 106 Reade and 6 Liberty Place in 1859. He was declared bankrupt in 1868.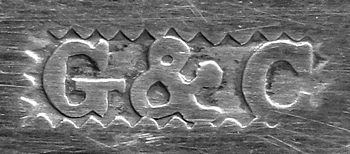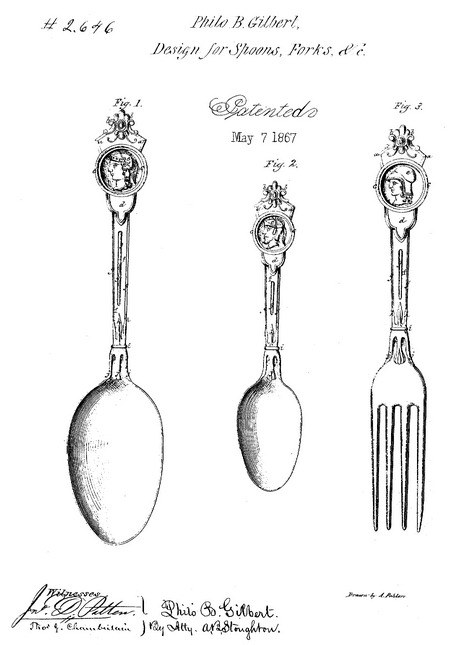 He was issued design patent number 2646 on 7 May 1867

DESIGN FOR A SPOON, KNIFE, OR FORK-HANDLE.

TO ALL WHOM IT MAY CONCERN:

Be it known that I, PHILO B. GILBERT, of the city, county, and State of New York, have invented or produced a new and original Design for Spoons, Forks, Knives, &c., or for the ornamentation of the handles thereof; and I do hereby declare the following to be a full, clear, and exact description of the same, reference being had to the accompanying drawings making a part of this specification, in which—
Figure 1 represents a table-spoon.
Figure 2 represents a dessert or coffee-spoon.
Figure 3 represents a fork.
The top or extreme end of the handle is lozenge-formed, as at a, and terminates in scroll and other ornamented work b. Next to the above ornamentation follows a medallion, c, with a knight's head, e, helmeted. Next, an escutcheon, d, plain, from which projects the narrow portion of the handle f, with sunken marginal and central lines g. Next, the spear-shaped points h, with a band i, and below the band, foliated ornaments j, which terminate where the bowl of the spoon, or the spread-out portion of the fork at the head of the tines, begins.
Having thus fully explained my design, what I claim, is—
The above-described ornamentation for handles of spoons, forks, and similar table-ware, as described and represented.

Philo B. Gilbert

Witnesses:
F. P. Gilbert
John Marshall
Obituary printed in the Brooklyn Daily Union (Brooklyn NY) in Jan 1875, reported that he had died in Richmond while on a business trip for Whiting Manufacturing Company.
Philo married Catherine Everett, daughter of Mr. Everett and Mrs. Everett, in New York City NY. (Catherine Everett was born in 1821 in New York.)