Frederick Oakes
Born: Dec 1781, East Hartford CT

Marriage (1): Mary Pratt on 15 Sep 1804 in Hartford CT

Died: 18 Oct 1855, Nyack NY
General notes:
Silversmith and watchmaker
Events in his life were:

He was a partner before 1804 with Nathan Allyn in Hartford CT as ALLYN & OAKES. Dissolution reported in American Mercury of 13 December 1804. 3
He was a partner in 1804-1807 with David Greenleaf in Hartford CT as GREENLEAF & OAKES. Partnership announced in the American Mercury of 20 December 1804 and its dissolution in the Connecticut Courant of 30 September 1807. The mark show is tentatively attributed to the firm. 3
He worked in 1807-1811 as a silversmith, jeweler, and watchmaker in Hartford CT from shop facing Ferry Street. 3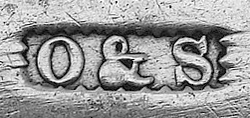 Sugar tongs, c 1815
Private Collection
l: 7 1/8"
Engraved on bow "Maria Danforth"
He worked in 1820-1830 as a silversmith, jeweler, and watchmaker in Hartford CT from his old stand at 85 Main Street. Apparently he retired from business c 1830, his son buying out his stock in trade. He is listed in city directories from 1838-1846 as having a boarding house. 3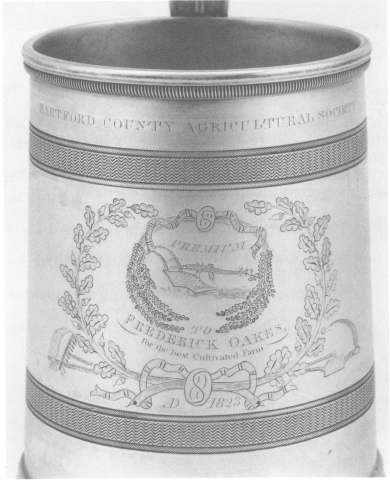 Mug by Horace and Allyn Goodwin, c 1823
Private Collection 14
h: 4 1/2"
Inscription HARTFORD COUNTY AGRICULTURAL SOCIETY above upper decorative band; PREMIUM / TO / FREDERICK OAKES / for the best Cultivated Farm / Æ 1823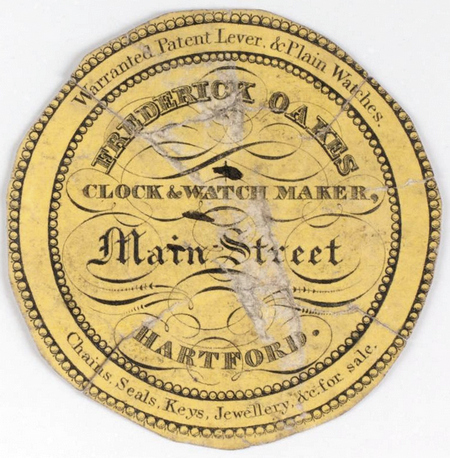 Watch paper, c 1829
American Antiquarian Society

He appeared on the 1850 census taken at Hartford CT, listed as a silversmith. It is unclear if he had, in fact, resumed his trade or simply gave the enumerator his old occupation.
Frederick married Mary Pratt on 15 Sep 1804 in Hartford CT. (Mary Pratt was born on 12 May 1784 in East Hartford CT and died on 4 Mar 1867 in Detroit MI.)