Caleb Wheaton
Born: 12 Feb 1755, Providence RI

Marriage (1): Sally Smith before 5 Apr 1783 in Providence RI

Died: 31 Oct 1827, Providence RI
General notes:
Silversmith, watch- and clockmaker
Events in his life were:
Advertised in the Providence Gazette (Providence RI), 17 Feb 1781, refering to himself as a clock- and watchmaker who has removed his shop "to his Father's." 3

Tall case clock, 1785-1810
Private Collection
A Queen Anne mahogany block and shell carved tall case clock. Dial engraved "Caleb Wheaton, Providence". Circa 1785-1810. The arched molded cornice is capped by three gilded carved urn and flame finials above the glazed door which opens to a silver plated brass dial with second and date hands and an eight-day time and strike movement, the dial engraved by Caleb Wheaton with his name and location centered in arch below a bird flanked by an engraved scythe and hour glass on the left, and, by an indistinct profile of Chronos on the right. All surmounted by the Latin words, "Ab hoc momento pendet aeternitas" (Eternity depends on this moment). This bonnet is flanked by two sets of fluted columns above the shell carved and blocked waist door over a paneled base on ogee bracket feet.

Master to George Wheaton Abt 1795 in Providence RI. 3
Advertised in the Providence Gazette (Providence RI), 13 Feb 1796, noting his shop on Main Street and offering "gold and silver watches. . . sold cheap for cash." He also ". . . wants an apprentice to the clock- and watch-making business." 3
Providence RI: listed in Mechanics Association papers as doing business at 83 North Main Street. 3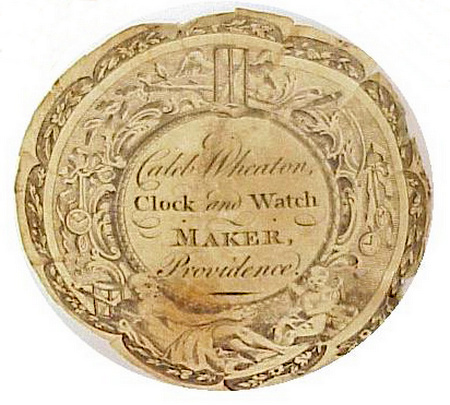 Watch paper, c 1800
Private Collection

He was a partner in 1807 with George Wheaton in Providence RI as CALEB WHEATON & SON, listed in the 1824 city directory at 81 and 165 North Main. 3
Advertised in the Providence Gazette (Providence RI), 11 Jul 1807, announcing he had taken son George into partnership. 3
Caleb married Sally Smith before 5 Apr 1783 in Providence RI. (Sally Smith died in May 1795 in Providence RI.)