Aaron Lufkin Dennison
Born: 6 Mar 1812, Brunswick ME

Died: 9 Jan 1895, Birmingham England
General notes:
Silversmith and watchmaker
Events in his life were: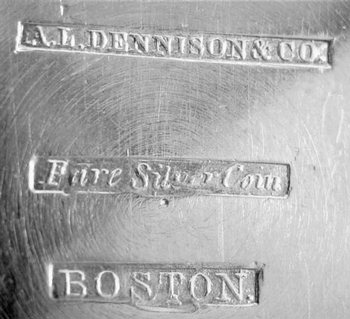 He worked circa 1835-1861 as a silversmith and watchmaker in Boston MA as A. L. DENNISON & Co.
Seeing the need for standardization in the making of watch parts and cases, he founded the American Horologue Company in Roxbury MA. The company was renamed the Boston Watch Company and moved to Waltham. When the company failed in 1857, it was bought by New York financiers and renamed the American Watch Company. Dennison remain on as the company's superintendent until 1861.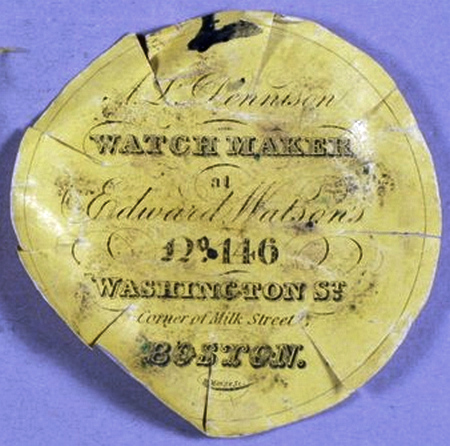 Watch paper, c 1835
Historic New England

He was a partner in 1845-1849 with George E. Adams and John Carey Farnsworth in Boston MA as DENNISON, ADAMS & Co, listed in the 1845 city directory at 67 Washington Street.
He appeared on the 1871 census taken at Handsworth, Staffordshire, England, listed as a watch maker.