Colonel Thomas Dawes
Born: 5 Aug 1731, Boston MA

Marriage (1): Hannah Blake about 1751 in Boston MA

Died: 7 Jan 1809, Boston MA
General notes:
Example
Events in his life were: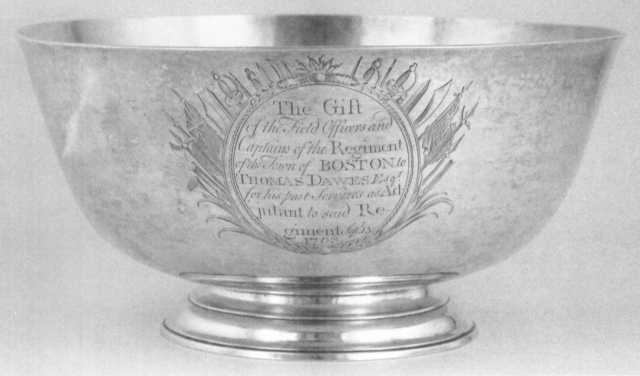 Punch bowl by William Holmes, 1763
Museum of Fine Arts, Boston 10
h: 4 7/8"
d: 5 1/4" (base)
d: 9 7/8" (lip)
wt: 32 oz, 17 1/2 dwt
Engraved with Dawes arms in scroll and foliate cartouche with drapery below on one side. Inscription on other side, within engraved and bright-cut medallion with instruments of war and British flags: The Gift / of the Field Officers and / Captains of the Regiment / of the Town of BOSTON. to / THOMAS DAWES Esqr / for his past Services as Ad- / jutant to said Re- / giment Sept. 13 / 1763.
Thomas Dawes aunt was William Homes' wife, Rebecca Dawes. Colonel Dawes served as Senator, Moderator, and member of the Governor's Council. He was a builder and worked with the architect Charles Bulfinch. His will, probated on 02 Jan 1809, left ". . . to my Grandson Thomas Dawes Tertius after the decease of his Grandmother Dawes my Gold Watch and Silver Bowl, which was presented to me by the Officers of the Boston Regiment."
Thomas married Hannah Blake about 1751 in Boston MA. (Hannah Blake was born on 9 Sep 1733 in Boston MA and died on 10 Nov 1810.)