Charles Willson Peale
Born: 15 Apr 1741, Chestertown MD

Marriage (1): Rachel Brewer on 12 Jan 1762 in MD

Marriage (2): Elizabeth De Peyster on 30 May 1791

Died: 20 Feb 1827, Philadelphia PA

Buried: 22 Feb 1827, Philadelphia PA
General notes:
Artist
He followed for some time the trade of a saddler in Annapolis, but, having seen a portrait while visiting Norfolk, Virginia, he determined to attempt art, and on his return he executed a likeness of himself. His success induced him to change his vocation from saddle-making to portrait-painting. He lived in Boston in 1768-69, where he had some instruction from John Singleton Copley, and in 1770 he went to London, England, bearing letters to Benjamin West, who received him kindly, and whose pupil he became. In London, Peale also studied modelling in wax, casting and moulding in plaster, engraving in mezzotinto, and miniature-painting. He returned to Annapolis in 1774, began painting portraits, and two years later established himself in Philadelphia. Later he became a captain of volunteers, and was present at the battles of Trenton and Germantown. He also began to take an active interest in political affairs, and was a member of the legislature in 1779. Afterward he turned his attention to natural history. A mammoth that had been disinterred for him in Ulster county, New York, in 1801, led his mind into this new channel, and the idea of forming a museum occurred to him. He forthwith became a collector of all manner of natural curiosities, and with these, and a large number of portraits, opened, in 1802, "Peale's Museum" to the public. He gave lectures on natural history, and occupied himself also with dentistry. In 1791, and again in 1794, he made earnest but ineffectual endeavors to form an art academy in Philadelphia, and he lived to assist in establishing the Pennsylvania academy of the fine arts and to contribute to seventeen of its annual exhibitions. Peale is notable rather for versatility than for real genius in any direction. He took up, in turn, the making of coaches, harnesses, clocks, and watches, besides working as a silversmith, and he was also soldier, politician, naturalist, taxidermist, and dentist. It is said of him that he "sawed his own ivory for his miniatures, moulded the glasses, and made the shagreen cases." In the course of his various studies he became an author also, his writings including an essay on "Building Wooden Bridges" (1797); " Discourse Introductory to a Course of Lectures on Natural History..." (Philadelphia, 1800); "Epistle on the Means of Preserving Health" (Philadelphia, 1808); and "Domestic Happiness" (1816). But his fame rests mainly on his achievements as a portrait-painter, and is due in a great measure to the circumstance of his having been enabled to associate his name with that of Washington, who gave him, it is asserted, no less than fourteen sittings. He executed in 1772 his first portrait of Washington, who was then a Virginia colonel, and after that painted him repeatedly during the Revolutionary war, and afterward several of these portraits he engraved. He was at one time the only portrait-painter in the colonies, and his services were much in demand. Among his portraits, many of which have been engraved, are those of George and Martha Washington, John Hancock, Robert Morris, Nathanael Greene, Horatio Gates, Benjamin Lincoln, Baron Steuben, Count Rochambeau, Baron DeKalb, Benjamin Franklin, Peyton Randolph, Thomas Jefferson, Charles Carroll, Lord Stirling, Bishop White, Albert Gallatin, Dr. Benjamin Rush, Count Volney, Timothy Pickering, John Witherspoon, and Alexander Hamilton. Those of James Monroe, Andrew Jackson, John Quincy Adams, John C. Calhoun, and Henry Clay were painted in the winter of 1818-19. The New York historical society owns four portraits by him--Washington, Hamilton, John B. Bordley, and Pieter Johan Van Berekel. His "Christ Healing the Sick at the Pool of Bethesda" was painted in his eighty-first year, and his last work was a full-length portrait of himself at the age of eighty-three. It is now in the Philadelphia academy. See Elizabeth B. Johnston's "Original Portraits of Washington" (Boston, 1882)" William Dunlap's "History of the Arts of Design in the United States" (New York, 1834); and Scharf's "History of Philadelphia" (Philadelphia, 1884).
Events in his life were: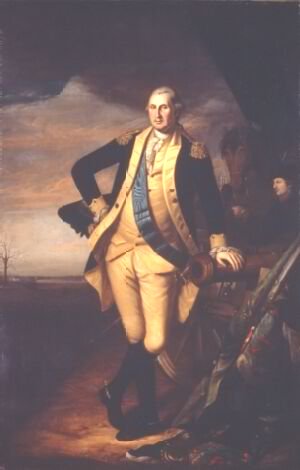 Portrait of George Washington, 1780
Metropolitan Museum of Art
On January 18, 1779, the Supreme Executive Council of Pennsylvania passed a resolution commissioning a portrait of George Washington for the Council Chamber and selected Charles Willson Peale as the artist. In preparation, Peale traveled to the Princeton and Trenton battlefields in February of 1779 to make sketches for the background. The original portrait, the full-length version now in the Pennsylvania Museum of Fine Arts, was a tremendous success and Peale completed numerous copies for royal palaces abroad, each time updating the general's military dress. This figure of George Washington was probably painted between June and August of 1780. In every other version, Washington is shown after the Battle of Princeton, but here he is depicted after the Battle of Trenton, the turning point of the war. It has been suggested that this portrait was commissioned upon the order of Mrs. Washington, because it is the only portrait in which Washington wears his state sword and because the painting descended in the Washington family.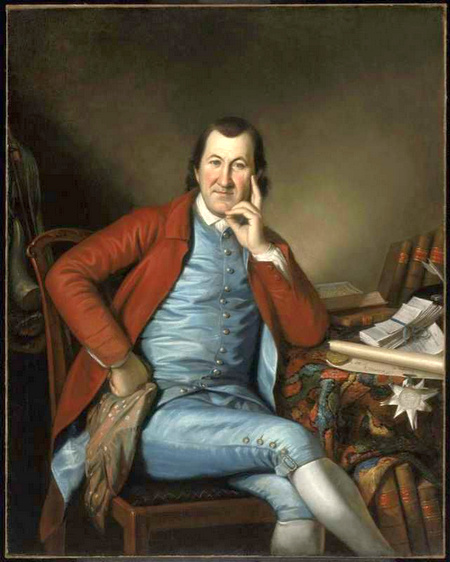 Portrait by Timothy Matlack, 1790
Museum of Fine Arts, Boston
Charles married Rachel Brewer on 12 Jan 1762 in MD. (Rachel Brewer was born on 14 May 1744 in Anne Arundel MD, died on 12 Apr 1790 in Philadelphia PA and was buried in Apr 1790 in Philadelphia PA.)
Charles next married Elizabeth De Peyster, daughter of William De Peyster and Elizabeth Brasier, on 30 May 1791. (Elizabeth De Peyster was born on 10 Jul 1765 in New York City NY, died on 19 Feb 1804 and was buried in Feb 1804.)