Rufus Lathrop Nevins
Born: 14 Apr 1794, Norwich CT

Marriage (1): Jane Tenbrook on 27 May 1814 in New York City NY

Died: 3 Mar 1839, New York City NY
General notes:
Silversmith
Events in his life were:
He was a partner in 1814-1819 with James Nevins Hyde in New York City NY as HYDE & NEVINS, jewelers and importers of fancy goods, especially from Bradbury & Sons, Sheffield England. 4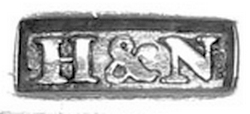 New York City NY, c 1820-1839: after his partnership with Hyde ended, he became a successful stock and commodity broker.
Rufus married Jane Tenbrook on 27 May 1814 in New York City NY.