Thomas Charles Fletcher
Born: 3 Apr 1787, Alstead NH

Marriage (1): Melina Degrasse Veron on 29 Sep 1818 in Philadelphia PA

Died: 14 Nov 1866, Delanco NJ
General notes:
Silversmith and merchant
Events in his life were: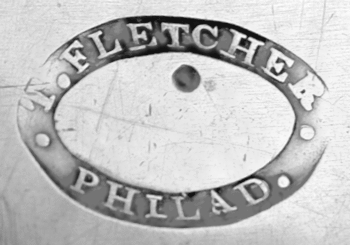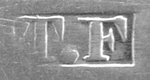 Alternate Mark
Attribution of this mark to Fletcher is in doubt. It has only been found on spoons of lower weight and quality than one would expect. At least eleven other makers of the period shared the same initials.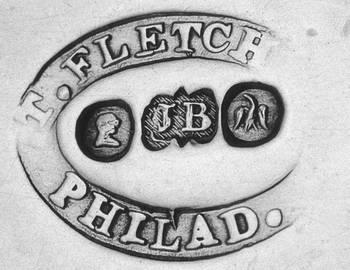 Advertised in the Columbian Centinel (Boston MA), 1808-1811, 4

He was a partner in 1809-1810 with Sydney Gardiner in Boston MA as FLETCHER & GARDINER. 4
He was a partner in Nov 1810-Aug 1811 with John McFarlane and Sydney Gardiner in Boston MA as McFARLANE, FLETCHER & GARDINER. 4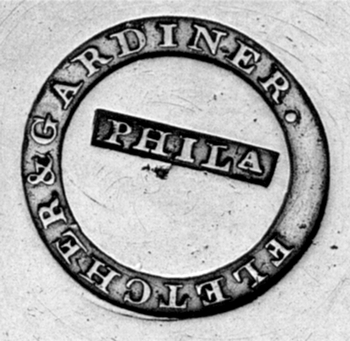 He was a partner in 1811-1827 with Sydney Gardiner in Philadelphia PA as FLETCHER & GARDINER with shop located at Third and Chestnut Streets until 1822. 4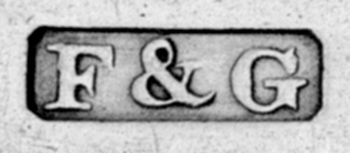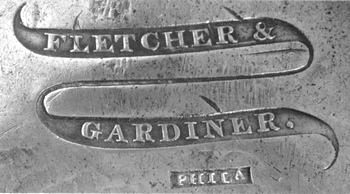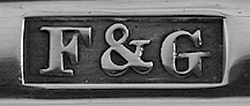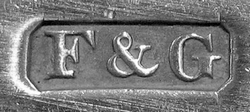 Letter From Baldwin Gardiner in Boston
Private Collection



Boston March 2nd [overwritten to] 3rd 1811

Mr. Fletcher

We this day received your letter from Philaa and are very much pleased to hear that you had arrived safe, though not that you are very much fatigued. I shd not have written but you wish to know how business is. It is far better than we can expect. We have taken since you have been absent over Seventy five Dolrs, on an average, per day. We have also recd of Capt Welles, the amnt of his bill.

Here I will inform you that his seal which we recd a few days after your departure from Brown is engraved wrong -- A. W. is engd instead of T. W. Capt W. has returned it and has made choice of a similar pattern, larger. I have this day forwarded it to Brown with the right cypher for Titus Welles.

We have made some excellent sales since you have been gone that we have not yet got the cash for yet, but it is sure, we are like to furnish T. Cook with as many Goods, I hope, as we have Capt Welles. He has already Bought many articles, etc –

And--and--and we have sold that large diamond and Pearl Pin to Genl King – at a price something less than what Mr. G's modesty required for it, however he refused positively first and let the Genl go away the first time he offered it, but Mr. McF* was certain that he shd return as he shd tell him that he might take it at that and on his return Mr. G. was kind enough to "let him take it" – But no more of this long story without the Price which was only One Hundred & Seventy Five dols.

This is not included in our retail Sales. We have made no large Sales in the retail line, but are wholly made up of small sales. Wm Hall Junr has been down and paid $50 on his note, although not due, and purchased to the amnt of One Hundred & odd Dolrs – note at 90 days.

I have written to Messrs Elliot & Butterfield requesting them to forward the Amnt of their note in a polite manner.

The Key Business is all quiet & I hope asleep never to wake.

We are now about even with respect to borrowed Money as we have paid all but about $100 & we have enough and more than to pay that. Tomorrow I must pay Yr & McF's Tax Bills. We have not yet paid Halliday.

I wish you would inform us about Hyde's note because I don't see how Mr. Higginson can renew it.

Yours dutifully

Baldwin

P. S. Mrs. V. wishes me to tell you that she wrote to you on Thursday & that she is better now than she was then & although she has not yet been down stairs. All the representatives have gone away now & Mr. Fales has been gone ever since you have. We have recd letters from Dyer all is well in that part. We have recd letters from Mr. Thos. Fletcher & Mr. James F– also – all well. Wishing you return as soon as you can I remain

Yours Obediently

Baldwin Gardiner

* John McFarlane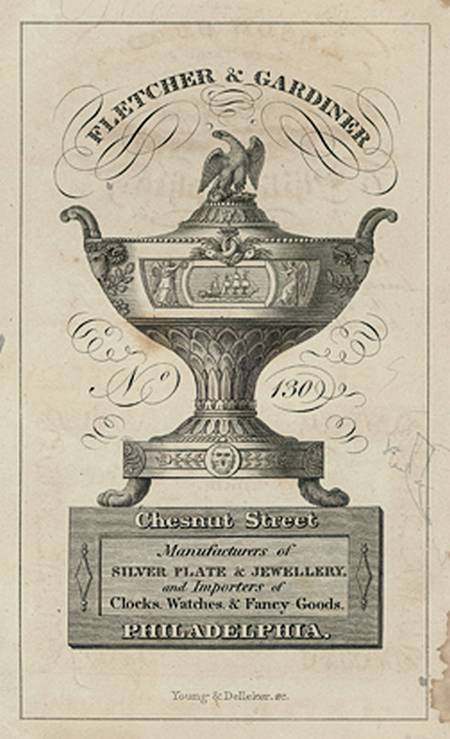 Tradecard
Winterthur Library
For FLETCHER & GARDINER.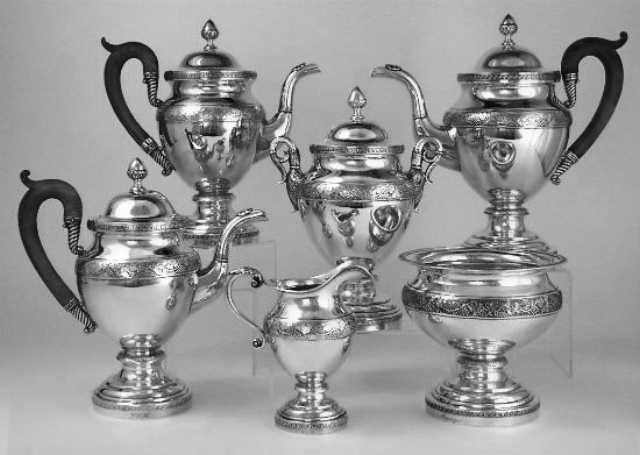 Tea and coffee set by FLETCHER & GARDINER, c 1815-1820
Private Collection
h: 12" (coffeepot)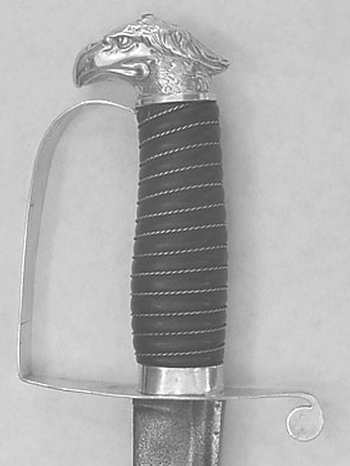 Sword hilt, c 1815
Private Collection
h: 5 1/4"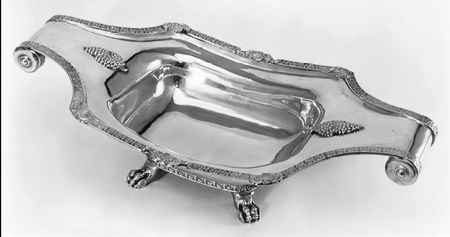 Bread Basket by FLETCHER & GARDINER, c 1815-1820
Private Collection
l: 16 1/8"
w: 8 5/8"
h: 4 1/4"
Letter from Ruggles Whiting to London via the ship Liverpool
Private Collection



Boston 8th May 1815/


My Dear friend,


I have not been able to purchase the exchange with in your limits. Exchange is now at 5 % A. cash.

I duly informed your Mr. Gardiner that I should not be able to procure the Exchange.

I wish you to learn from Mr. Dyer the most he will allow me for all my interest in the card, nail and all the other patents except the steel plate & whatever sum he may think proper to allow me. I wish him & authorize Mr. Higginson in this town to propose. The unsettled accounts between Mr. D & myself I will agree to have settled by disinterested gentlemen to be mutually agreed upon, provided a settlement cannot be effected without.

You will be able to satisfy Mr. D that every thing I have done in this country touching his interest has been to the best of my understanding. Dyer well knows, that I have been his friend, disinterested & faithful – an interest is only wanted to inspire in his bosom this belief.

Should Mr. D. decline making an offer for my interest in the several patents you will please inquire of him & others what my interest is worth in the card patent. – Our mutual friend is well I mean the Doctor. Your house has not been sold. Your old partner has sold his stock & intends following you to Phila!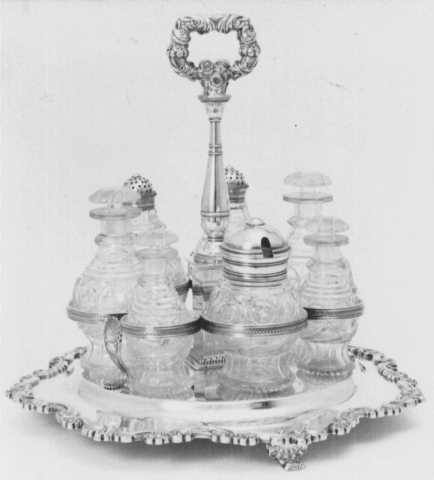 Cruet stand by FLETCHER & GARDINER, c 1820
Private Collection 20
h: 11"
wt: 62 oz, 5 dwt
Apple corer, c 1820
Private Collection
l: 5 1/2"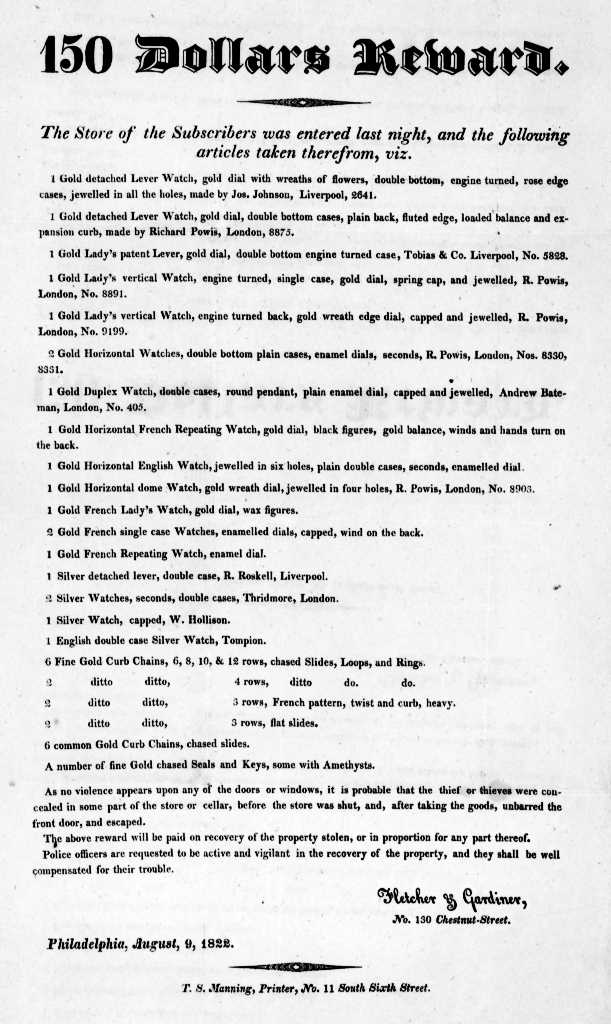 Advertised on 9 Aug 1822 (Philadelphia PA), broadside offering 150 dollars reward: "The store of the subscribers was entered last night, and the following articles taken therefrom, viz ... Fletcher & Gardiner. No. 130 Chestnut Street."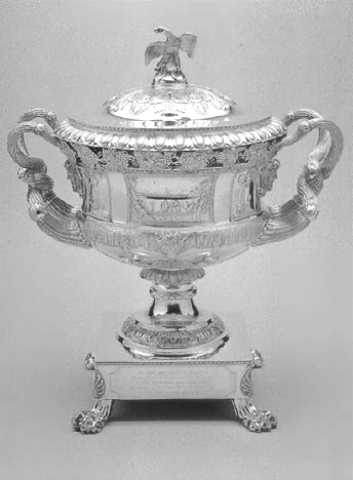 Presentation vase by FLETCHER & GARDINER, 1825
Metropolitan Museum of Art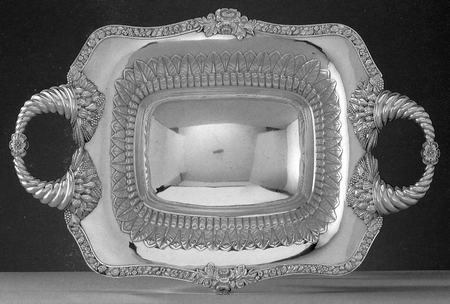 Cake basket by FLETCHER & GARDINER, c 1825
Private Collection
w: 17"
wt: 66 oz, 10 dwt
Engraved R. F. Stockton.
He worked in 1826-1836 as a silversmith and jeweler in Philadelphia PA listed in the 1826 city directory with a shop at 130 Chestnut Street. 4
Letter to his wife Meline in Lancaster MA
Private Collection



Philada Tuesday Aug 26.1828

My dear Melina,

You made a small mistake in directing your last letter which came to hand this morning – instead of Fletcher you wrote Fleather, and I should not have got it if you had not put the number of the street on it.

Tim Vernon says if he had a wife that didn't know how to spell her own name he would give her a blowing up – I tell him we shall see what he will do when he has a wife.

To be sure, a little more care in spelling would not be amiss – The Post Master at Lancaster made a mistake also by marking it Sept. 23 – instead of August – what is the matter with the folks in Lancaster – they had better go to school to Mr Carter -

I answered your letter before it came, as you will see by mine of last Sunday, wherein I informed you that I should not leave here till about the middle of next month – and I told you I thought you had better leave Lancaster about the first of next month, – and stay at Boston two or three weeks – You say you have written to Martha Sejourney that you should be there the first week in September and I think you had better go soon after you get this, and write to me as soon as you can after you get there – we will determine afterwards which way we shall come here – The sale of Mary's furniture is fixed for the 9th or 10th of September – my sale will not commence till about 2 weeks after and I intend to go to Boston & fetch you as far as New York & leave you there till the sale is over-

— page two —

Ma Veron has not written to Mary or anyone else since she has been gone – but we heard from her last night by Miss Pattersen who has just returned from there – she was well, and in good spirits.

Mary seems very well contented at Mr Eaton's – Mr Stone is at home and Mr Braser (?) expected tomorrow – Mrs E is not expected for several weeks – perhaps she may come with us. –

The weather has been very warm for the week past but today it is almost insufferably hot – Thermometer above 90 – so you must excuse me if I don't write a very long letter –

The city is still very dull no business doing – but I am still occupied in attending to repairs – I hope to finish this week. –

Mary took a walk with me last evening in Washington Square – it was very pleasant – the moon was very bright & we said perhaps Melina is just now looking at the moon and thinking of us – We met Mr & Mrs Merrick – she looked something as the moon did – that was at the full – She said she was very well – Merrick said he had just met Charly walking with some fair damsel – I suppose it was Miss H. and perhaps she was explaining away his suspicions about her trip up the North River with him – I am told they deny it. –

Tell mother I should like to come while you are there but my business will not admit of it. You can keep money enough to pay your passage to Boston say 10 or 12 dollars & give the rest to Betsey or pay it away yourself –

In haste Your loving husband

ThosF

I shall try to send you the things you wrote for – Tell Lewis he must behave well when he gets to Boston –

— page three —

Tell Thomas I shall not undertake to advise him what to do – he has got his own fortune to make and he must choose for himself – I have met with bad luck in giving advice to Timothy and I am determined not to fall into the same fault with him – my trade will give him a living if he is industrious and the best would not if he is indolent.

He must determine for himself –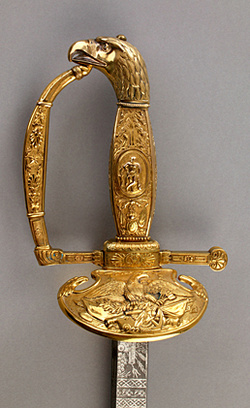 Sword, 1829
Ruth J. Nutt Collection of American Silver
l: 32 1/2"
Blade engaved "Presented by the State of Maryland to / Lieutt Henry E. Ballard. March 1828". Blade made by William Rose & Sons and engraved by John Meer.
Advertised in the U. S. Gazette (Philadelphia PA), 2 Jan 1829, as surviving partner of FLETCHER & GARDINER. 4
Advertised in the Philadelphia Inquirer and Daily Courier (Philadelphia PA), 10 Jun 1834, offering fine watches for sale. 4
Letter to Henry Fletcher in Louiseville KY
Private Collection



Philada March 13, 1835


Mr Henry Fletcher

Dear brother


I have yours of the 2nd inst. – The draft in favor of Blake has been accepted – The goods you have ordered will be sent off as soon as they can be got ready – I shall send you also a dozn Musical Boxes same as last at $5.50 having obtained a lot a little lower than the last - I shall also send you a few more silver amusements which are very salable here –

Earrings with stones are coming into fashion – you must sell off your filigree & chased if you have any – Gold levers [?] are scarce at present – I have very few on hand – I will send you one or two –

I have now two plain spoon makers – if you can send me some stock to make them with I can now get up a good assortment for you —

Thos Fletcher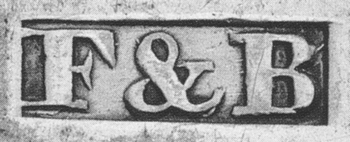 He was a partner in 1836-1839 with Calvin W. Bennett in Philadelphia PA as FLETCHER & BENNETT. 4
Letter to Fletcher & Reeves in Louisville KY
Private Collection



Philada May 24th 1836

Meßrs Fletcher & Reeves

Bot [sic] of Fletcher & Bennett

4
Dozen Silver Table Spoons
84.08
126.98
5
" Do Tea Do
26.03
42.62
5
Do Cream Ladles
6.03
9.74
1
Gold Guard Key
3.75
6
" " "
@ 3
18.00
4
" " "
2 3/4
11.00
1
" " "
2.50
6
pr Sil Spectacles Sliding Sides, extra glasses
2.50
15.00
½
doz white & red plumes 16 in
12
6.00
½
" " & " " 22
21
10.50
2
Doz Silk work Watch Guards
3 3/4
7.50
1
Sil Watch Disk ea $2½ - 2¾ - 3¼ - 3½
12.00
2
" " "
3
6.00
4
Grs Lunette Watch glasses
12
48.00
6
Doz fine Steel Keys
1 5/8
9.75
1
Grs Steel Rings
90
150.90
1/2
Doz Silver Guard Keys
5 –
2.50
2.50
1
Gold P. L. Watch double cases, chased edge &P. - E. T -- gold border
& center Dial 12 holes jewelled steel ratchet &c
S. I. Tobias & Co - L'pool № 9300
145.00
1
Gold P. L. Watch double bottom cases E. T.
chased edge &P. plain Gold Dial -- Johnson № 38479
75.00
2
Silver Patent Lever Watches Double bottom
best finish Ryley & Son № 8750$38.50 & John Harrison № 5876 $38.50
97.00
Amount over
629.74
— page two —
Amount brot [sic] up
629.74
1
Silver Patent Lever Watch Double Cases
S. I. Tobias & Co
35.00
1
Silver Anchor Escapement Watch 6 holes jewelled
3 Ruby Pallets compensating curb -- Brothers Melly № 5084
38.50
Comm on $150.90
@ 5 per ct
7.54
Box Porterage & Cooperage
2.00
$712.78

PhiladaMay 24th1836

Meßrs Fletcher & Reeves

Gentn — Herewith we have the pleasure to hand you an invoice of goods a part of your order of the 23rd ulto, which we have forwarded to Meß A. & G. Baldwin Balt–
We find it impossible to get the watches as you describe without purchasing the movements and having them cased here — this we have done and they are now in the hands of the case maker. We shall forward them as soon as they are done — The d'ble case Silver Watch now sent is ours that has been worn a little but is as good as new. The price of the same quality new is $39 — We have enclosed the music and music paper from Blake in this box
Your letter of the 18th inst enclosing four hundred dollars is to hand and the amount placed to your credit. The pistoles were purchased as low as they could be had here – they were of the best quality

Respectfully

Your Obt Servants

Fletcher & Bennett
Letter to Fletcher & Reeves in Louisville KY
Private Collection



Philada Dec 23rd 1836

Mesrs Fletcher & Reeves

Gentn

Your favour of the 12th inst enclosing Bill of Exchange for $500 on Mesrs Grigg & Elliott is received, the bill has been accepted and will be placed to your credited at maturity.

We shall forward your accounts current as soon as possible.

The goods for Mr Wickliffe were sent direct to Lexington some months since – the article for Mr Wallace only waits an opportunity to be forwarded. We are obliged to you for this remittance and remain

Respectfully

Your obbt servants

Fletcher & Bennett
Letter to Henry Fletcher in Louiseville KY
Private Collection



Philada 20.May 1837

Dr brother,

I hand you a draft on Genl Lytte at thirty days sight for $66.50 which Mr Gardiner supposed might be in your power to collect.

I wrote you from New York and informed you of the gloomy situation of things there.

Matters did not get quite so bad here, but money is very scarce, notwithstanding the stoppage of specie payments, which enables the bank to extend a little — I succeeded in getting goods from B. G. to the amount of my liabilities for him, but I shall be obliged to pay the drafts as they fall due, unless can be renewed which is very doubtful as the Bank which has them has failed. — I do not know what mode you can adopt to make remittance, but hope you can get U. S. Bank notes – and I shall be very greatly obliged if you can help me by the 10th of next month at farthest.—

I hope to hear from you soon to learn that you arrived safe home and that business is better with you than it is here — our families are all well

Yr brother

Th C. Fletcher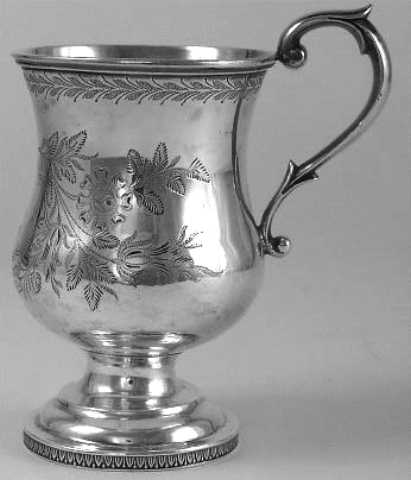 Cup, c 1838
Private Collection
h: 5"
wt: 7 oz
Working as FLETCHER & BENNETT.
Letter to Henry Fletcher in Louiseville KY
Private Collection



Philada Aug 25. 1838

Dear Brother,

Your favour of the 10th inst was duly rec'd enclosing a bill for $700 – which we have placed to your credit and now annex your account current showing a balance in your favor of $4.93 – This remittance has come to us very opportunely when we are greatly in want of funds, and we are happy that you have had it in your power to send it to us.

We shall settle with Mr Gessimen at your request and send you his receipt —

We have made arrangements with the son and successors of M. J. Tobias* for a supply of their fine watches and shall be able to supply you with the quantity you may want this fall – we expect also a large assortment of fine geneva Anchor & l'Epine watches gold & silver – if you want any before you visit Philada we will send you some. – The fall business has not yet commenced, but we hope for a good business yet before the year closes. The weather continues hot here —

Y

r

truly

Fletcher & Bennett
He worked in 1839-1842 as a silversmith and jeweler in Philadelphia PA
Although Fletcher's silver was in demand during the 1830s, he experienced severe financial problems in later years. By 1842, his creditors put his manufactory in the hands of an assignee. In May 1842, his business was auctioned at considerable loss. Fletcher continued to live in Philadelphia until 1850, when he was forced to sell his boarding house. He moved to Delanco, NJ, where he lived until his death. 4
Letter from Franklin Woodman
Private Collection



Burlington July 14 /40

Mr Thomas Fletcher

Dear Sir

I write to know the lowest price you will take for the Meadows — also to Rent them —

I have an application to Rent for 3 Years — at 60 per Year, but they are not willing to take for one Year only — owing to the fact of the Rushes not being cast off & mowed last year. They are now in a sad Condition — the fencing must also be kept in order — to prevent others Cattle from breaking in —

Truly Yours

Franklin Woodman
Letter to Henry Fletcher in Louiseville KY
Private Collection



Philada Nov 12.1840

Dear brother,

Yours of the 24th Sept. came duly to hand since which I haven't had occasion to write until this time.

The goods left with me by Calvin W. Bennett are still on hand, with the exception of some of the spoons, which I have used to fill up orders I received to manufacture the same kinds, and I thought it would suit you as well to let me have them as the same prices they would cost to manufacture, rather than keep them longer on hand. The amount of sale I have given on the other side – Only a part of the money has been received but I expect to get the whole by the time I get your answer to this.

I haven't yet paid any of the Bills you mentioned in your last.

I now write to inform you that Calvin has returned to the City and hired a store at the corner of 8th & Chestnut Street.

He called on me today, and made a demand of the goods belonging to you which were left in my hands by

— page two —

him, before he went to the country.

I answered that I had receive orders from you to dispose of the goods and pay over the proceeds as directed - He denied my right to do so, and said he had only stored them here and had a right to take them away again – I asked him whether he had renewed his agreement with you and he declined answering the question – He inquired whether I had paid away any of the money, I told him I had not but intended to do so – he intimated that he should expect me to pay it over to him if I had not parted with it – Under these circumstances I have thought it proper to write to you for instructions what to do, and await your answer, which I hope to receive by return of mail, in the mean time I shall hold everything in suspense* – In this stage of the business I shall not pretend to offer any opinion in relation to the course you may see fit to take presuming your own good sense will be your guide in the matter

Remaining always

Yr friend & brother

Thos Fletcher

— page three —

P. S. We have had little business since October began but now the Elections are over I hope it will begin to move

Goods are scarce and likely to be so this fall & winter -

We are all in good health –

Account of Sale Made

| | | | | | | | | | |
| --- | --- | --- | --- | --- | --- | --- | --- | --- | --- |
| 1 | doz. | Table | Spoons | Thd & | shell | wt. | 38.10 | mak'g | 12. |
| 1 | " | " | " | Thd | only | " | 39.5 | " | 12 |
| 2 | " | Dessert | " — | " — | " — | " | 56.15 | " | 20 |
| 1 | " | Tea | " — | " — | shell | " — | 13.13 | " | 5. |
| | | | | oz. | | | 148.3 | @ $ 125 – | 185.19 |
| | | | | | | | | | $ 234.19 |
| | | | | | | | | | 10 |
| | | | Nov 12. | 1840 | | | | | 244.19 |

*I wish you to say what I shall do with the goods and what I shall do with the money?
Schematic map of the Fletcher & Bennett family business connections.
Red lines indicate formal partnerships; green lines informal dealings. Click an individual to go to their page.


Thomas married Melina Degrasse Veron, daughter of Etienne Veron and Mrs. Etienne Veron, on 29 Sep 1818 in Philadelphia PA. (Melina Degrasse Veron was born about 1797 in Boston MA and died on 18 Apr 1874 in Philadelphia PA.)