Esther Helme
Born: 20 Jul 1740, Newport RI

Marriage (1): Francis Carpenter in 1767 in North Kingstown RI

Died: 5 Jan 1817, North Kingstown RI
General notes:
Example
Events in her life were: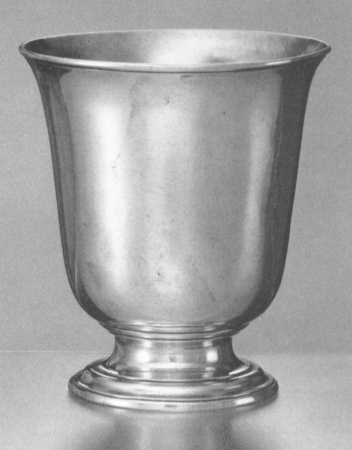 Beaker by Samuel Casey, c 1760-1770
Yale University 13
h: 3 5/8"
d: 2 3/16"
wt: 4 oz, 12 dwt
Engraved ESTER / HELME on the bottom. Her father, Judge James Helme, sat as presiding judge in Samuel Casey's trial for counterfeiting, 11 Oct 1770. A second identical beaker is in the Winterthur collection.
Esther married Francis Carpenter, son of Unknown and Unknown, in 1767 in North Kingstown RI. (Francis Carpenter was born on 8 Nov 1728 in Musquito Grove Long Island NY and died on 16 Jun 1785 in North Kingstown RI.)