Samuel Partridge
Born: 15 Oct 1645, Hartford CT

Marriage (1): Mehitable Crow on 24 Sep 1668 in Hadley MA

Died: 25 Dec 1740, Hatfield MA
General notes:
Example
Events in his life were: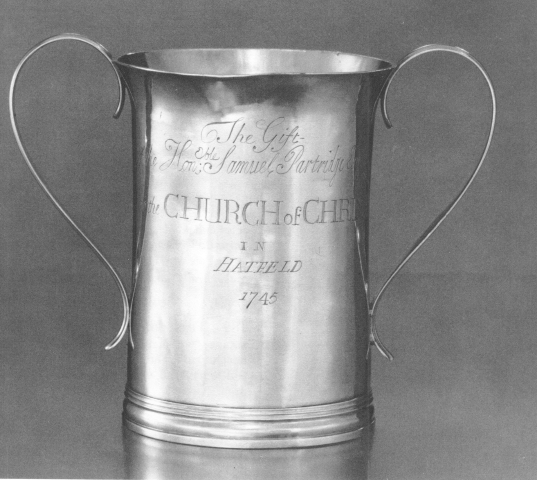 Cup by William Cowell, c 1745
Yale University 13
h: 4 3/4"
d: 3 1/4" ((base)
wt: 7 oz, 11 dwt
Engraved The Gift of the Honeble; Samuel Partridge Esqr; / to the CHURCH OF CHRIST / IN / HATFIELD / 1745. The donor was considered one of the most important men of the colonies. By his will, proved in 1741, he directed his son, Edward, to pay to the church £10 with which this cup was bought.
Samuel married Mehitable Crow on 24 Sep 1668 in Hadley MA. (Mehitable Crow was born in 1652 in Hadley MA, christened in Hartford CT and died on 8 Dec 1730 in Hatfield MA.)