Seth Flagg
Born: 15 Jul 1800, Boylston MA

Marriage (1): Lura Sampson on 20 Jan 1826 in Springfield MA

Died: 3 Mar 1844, Springfield MA
General notes:
Silversmith, jeweler, and watchmaker
Events in his life were:

He was a partner about 1825 with Charles S. (?) Chapin in Springfield MA as FLAGG & CHAPIN. Noted in Springfield, 1636-1886: History of Town and City as a "military store" on Armory Hill and as general merchants in Our County and Its People: A History of Hampden County, Massachusetts.


He worked about 1825-1835 as a silversmith, jeweler, and watchmaker in Springfield MA as S. FLAGG & Co.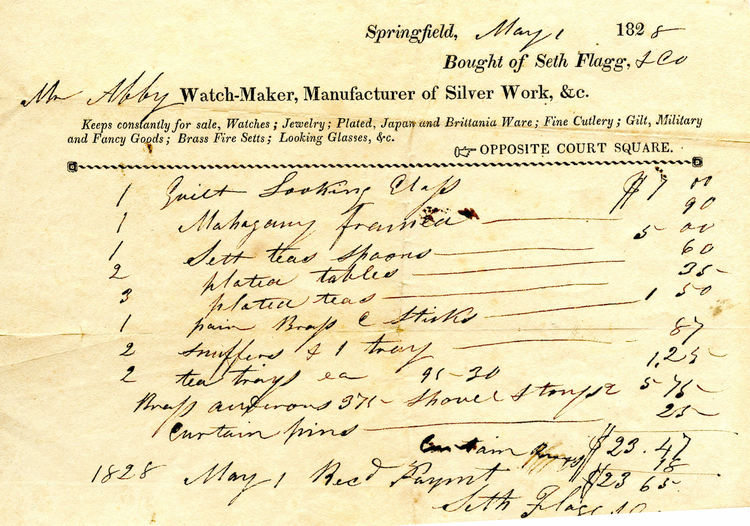 Receipt, 1 May 1828
Winterthur Library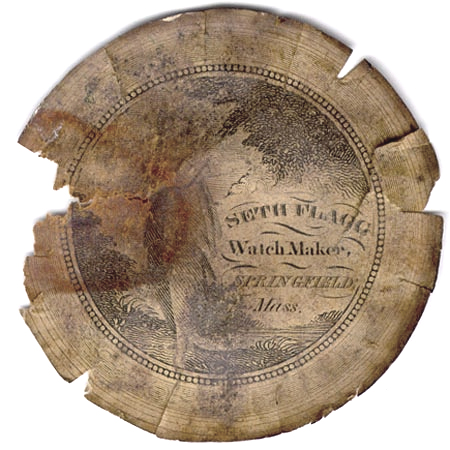 Watch paper, Abt 1830
Private Collection

Seth married Lura Sampson on 20 Jan 1826 in Springfield MA. (Lura Sampson was born on 12 Dec 1800 in Springfield MA and died on 4 Feb 1889 in Springfield MA.)