John Owen Pitkin
Born: 2 Dec 1803, East Hartford CT

Marriage (1): Lucy Makens Merrow on 18 Apr 1832 in East Hartford CT

Died: 20 May 1891, Coventry CT
General notes:
Silversmith, jeweler, and watchmaker
Events in his life were:


Alternate Mark
Possibly also used by his brother Walter.
He worked in 1826-1830 as a silversmith, jeweler, and watchmaker in East Hartford CT for many years owned a store at 12 State Street, Hartford, where he sold watches, jewelry and silverware. 3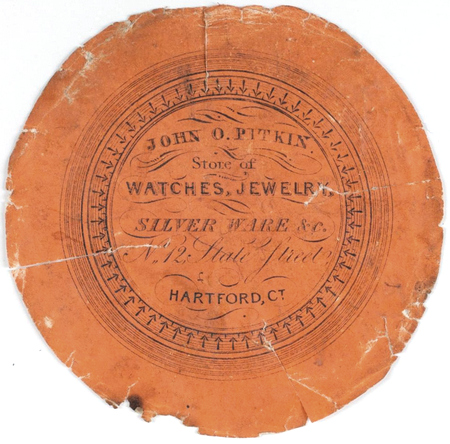 Watch paper, c 1830
American Antiquarian Society

He was a partner in 1830-1840 with Walter M. Pitkin in East Hartford CT as J. O. & W. PITKIN. The business expanded and a branch shop was opened in Vicksburg, Mississippi (1834-1837). Brothers Henry and James began manufacture of the "American Lever Watch" in 1834 in a Hartford shop to which John O. and Walter moved their silver business. More than 40 workers were employed on the various products. The watch business later moved to New York. In 1840 John retired and his brother Walter continued until 1880 when fire destroyed the factory in East Hartford. 3
He was a partner in 1848-1850 with James Flagg Pitkin in New York City NY as PITKIN & BROTHER, with a shop at 26 Maiden Lane.
John married Lucy Makens Merrow, daughter of Joseph Makens Merrow and Unknown, on 18 Apr 1832 in East Hartford CT. (Lucy Makens Merrow was born on 19 Apr 1812 in East Hartford CT and died on 12 Apr 1900 in Manchester CT.)