Lucius Thompson
General notes:
Jeweler and manufacturer
Events in his life were: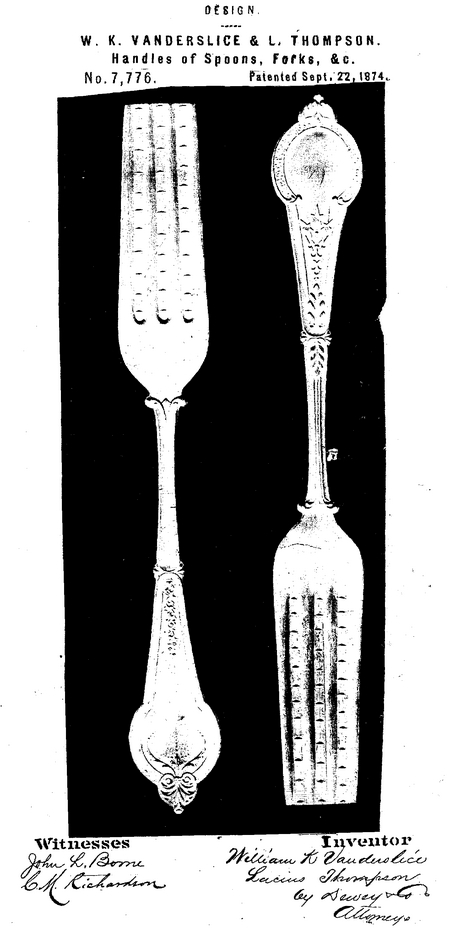 He was issued design patent number 7,776 on 22 Sep 1874

WILLIAM K. VANDERSLICE AND LUCIUS THOMPSON, OF SAN FRANCISCO, CALIFORNIA.

DESIGN FOR HANDLES OF SPOONS AND FORKS.

Specification forming part of Design No. 7,776, dated September 22, 1874; application filed August 21, 1874.

To all whom it may concern:
Be it known that we, William K. Vanderslice and Lucius Thompson, of San Francisco, California, have invented a Design for the Handles of Spoons, Forks, and other Table Ware, of which the following is a specification :
The nature of our design is fully represented in the accompanying photographic illustrations, to which reference is made.
Our design is for the handle of a spoon or fork. This handle has a large oval extremity, A, at the end of which is a semicircular projection, 6, which terminates in a smaller projection, c. From the oval the handle tapers gradually to the fork-blade F. In the middle of the haudle, and upon each side, is a slightly semicircular projection, d, which is ribbed transversely, as shown. The oval A and portion of the handle down to the projection d we provide with a border, consisting of two raised lines at a short distance apart. The face of the projection b is ornamented with scroll or leaf work, and between the border lilies of the oval A scroll-work can be made, if desired, or it may be left plain. Below the oval A, and inside of the border lines of the upper part of the handle, scroll or leaf work can be chased or impressed. Just below the middle of the handle, and upon the front side, is a leaf, e, and three raised lines extending therefrom down the middle of the handle to near the blade F, where they curve outward to the edge of the handle. The side edges of the lower part of the handle are slightly hollowed. The raised lines terminate in outwardly - curved projections i. The lower part of the handle on the opposite side is simply hollowed out, so as to form a raised rim along the opposite edges, and terminating near the blade in outwardly - curved projections, similar to the projections i on the opposite side.
What we claim isó
A design for the handles of table-spoons and forks, substantially as above described, and shown in the drawing.

WILLIAM K. VANDERSLICE
LUCIUS THOMPSON

Witnesses
John L. Boone
C. M. Richardson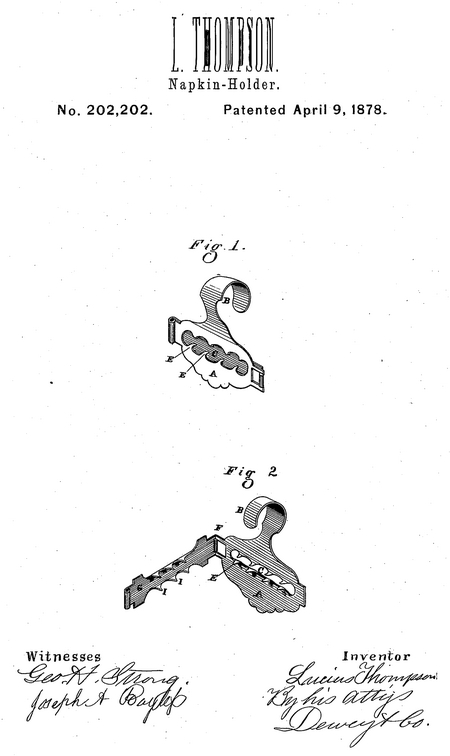 He was issued patent number 202202 on 9 Apr 1878

The descriptive text is missing.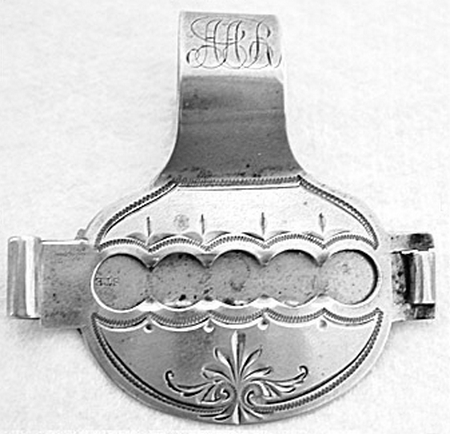 Napkin holder, c 1880
Private Collection
w: 2"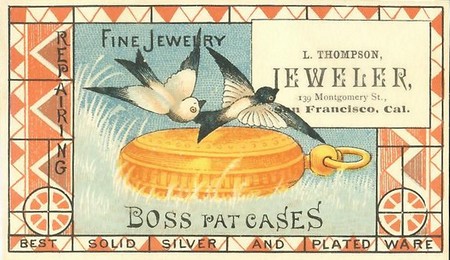 Tradecard, 1880
Private Collection