James Tilley
Born: 24 Apr 1743, Hartford CT

Marriage (1): Hannah Wadsworth in 1783 in Hartford CT

Died: 29 Aug 1792, Norfolk VA
General notes:
Silversmith
Events in his life were:
He worked in 1765-1784 as a silversmith in Hartford CT with a shop on King Street and later on Front Street. 8
Flynt & Fales:, . 3 About 1765, he made a cream jug, inscribed WTS, for William and Sarah (Mygatt) Tiley. It is now owned by one of their descendants, Joseph Wadsworth. This silversmith was a prolific advertiser, first appearing in 1765, notifying public "he still does gold and silversmith's work at his shop on King Street, Hartford." His shop was a little east of the courthouse, according to another ad. Tiley suffered a broken collarbone when the brick schoolhouse on State Street was blown up. A story in the Boston Gazette (May 20, 1766) telling of this incident erroneously refers to him as "James Tyler, Goldsmith." A charter member of St. John's Lodge of Free Masons, 1763. Was also a charter member of the Governor's Guard in 1771, and served as a captain in Revolutionary War. In financial difficulties in 1785, he later opened a house of entertainment on Front Street at the sign of "Free Mason's Arms."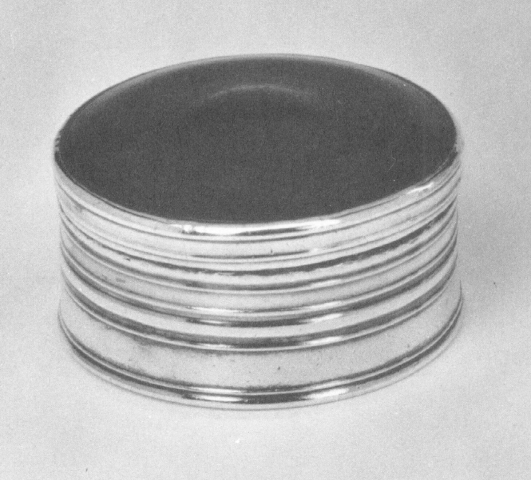 Snuff box, c 1765-1785
Private Collection 14
d: 2"
Cover inset with horn. Engraved HC for Harriet Chenevard
Advertised in the Connecticut Courant (Hartford CT), 8 Jun 1767, with Ebenezer Austin, a sale of silver spoons and other items at their "respective shops." 3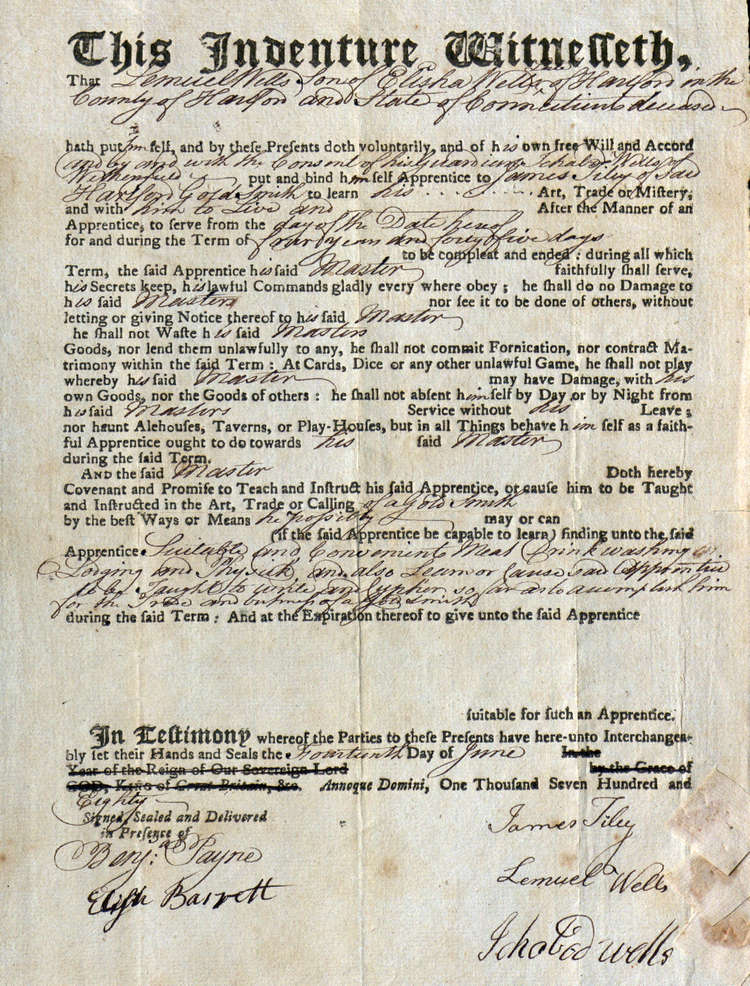 Advertised in the Connecticut Courant and Weekly Intelligencer, 24 Apr 1780,
Runaway from the subscriber, on the evening of the 23rd instant, an apprentice boy, named Paul Sayre, a native of Long Island, by trade a goldsmith, about nineteen years of age, about five feet, seven or eight inches high, a thick set fellow, flat nose, light eyes, thick lips, somewhat pitted with small pox, has short, straight dark hair. Had on and carried with him a broadcloth blue coat, jacket and breeches, a light-brown short coat, with open sleeves, a jacket about the same colour, a blue great coat, a pair of brown broadcloth breeches, a large castor hat almost new, two pair of shoes, a pair of open work silver shoe buckles and sundry other articles of clothing. Whoever will take up said apprentice, and return him to his master, or confine him so that he shall get him again, shall have One Hundred Dollars Continental Money Reward and all necessary charges paid by James Tiley.
N.B. Note well: It is supposed that he will endeavor to go on to Long Island. All masters of vessels are forbid carrying him off, or harbouring or concealing him at their peril.
Apprenticed before 1761 to Edward White in Hartford CT

James married Hannah Wadsworth in 1783 in Hartford CT. (Hannah Wadsworth was born on 7 Apr 1750 in Hartford CT and died on 26 Feb 1801 in Windsor CT.)