Albert Crandall Tifft
Born: 31 May 1811, Attleboro MA

Marriage (1): Catherine F. Coombs on 4 Aug 1833 in Attleboro MA

Died: 31 Mar 1866, Attleboro MA
General notes:
Silversmith and jeweler
Events in his life were:

He was a partner in 1840-1858 with William Dean Whiting in North Attleboro MA as TIFFT & WHITING. Originally a jewelry manufacture, the firm began making flatware in 1847. 12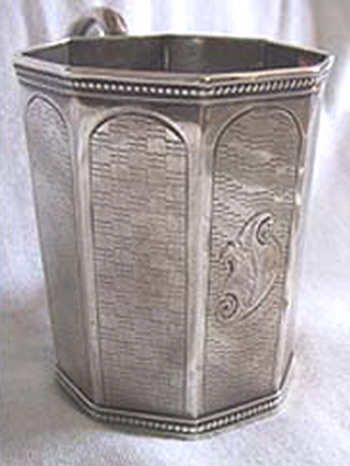 Cup by TIFFT & WHITING, c 1860
Private Collection
h: 3"
d: 2 1/2"
Engraved in cartouche "Rosalie Berens Peterson"


Albert married Catherine F. Coombs on 4 Aug 1833 in Attleboro MA. (Catherine F. Coombs was born on 25 Jan 1810 in New Hampshire and died on 1 Jun 1862.)