Jonathan Otis
Born: 30 Apr 1723, Sandwich MA

Marriage (1): Catharine Coggeshall on 16 Oct 1745 in Newport RI

Died: 20 Feb 1791, Middletown CT
General notes:
Silversmith
Events in his life were: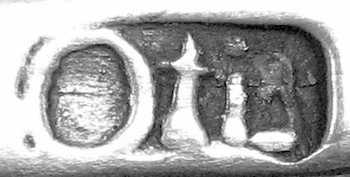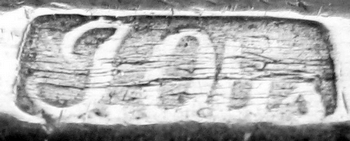 He worked circa 1750-1755 as a silversmith in Newport RI 4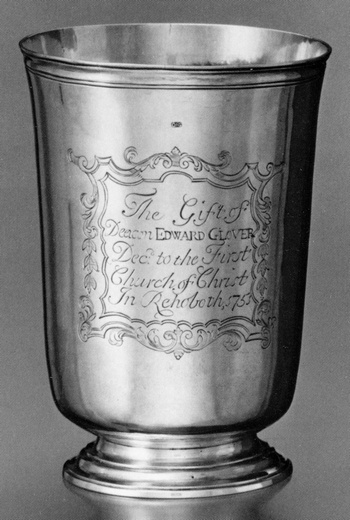 Beaker, 1751
Yale University
h: 5 13/16"
Engraved "The Gift of Deacon EDWARD GLOVER Decd: to the First Church of Christ In Rehoboth, 1751". The beaker is a close copy of another made by Jacob Hurd for the same church.
Advertised in the Newport Mercury (Newport RI), 1765, reporting gold and silver taken from shop. 4
He worked circa 1776-1791 as a silversmith in Middletown CT
Made a teaspoon for daughter Mary, who married Caleb Bull in 1778, inscribed MOB; a beaker dated 1782, gift of Deacon Ezra Baldwin to the Church of Christ in Durham CT; and a set of six beakers dated 1784 and 1785 for First Church of Christ, Middletown. 3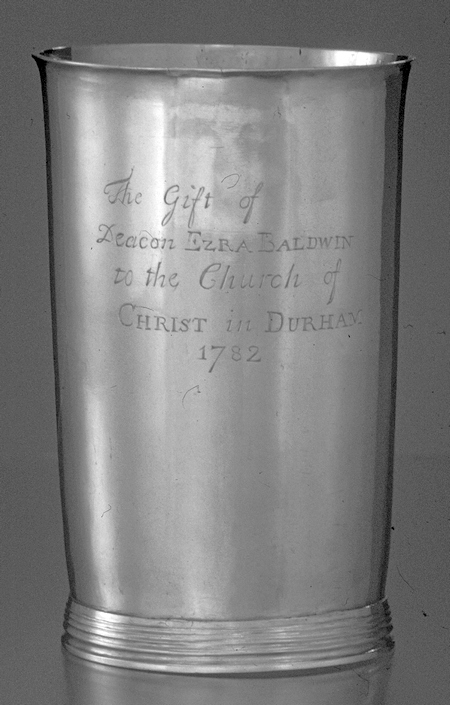 Beaker, c 1782
Yale University 13
h: 5 5/8"
d: 3 3/16" (of base)
wt: 8 oz, 16 dwt
Engraved "The Gift of / Deacon EZRA BALDWIN / to the Church of / CHRIST in DURHAM" The donor's sister, Hannah (Baldwin) Fowler gave the same church a beaker by Robert Fairchild.
Jonathan married Catharine Coggeshall on 16 Oct 1745 in Newport RI. (Catharine Coggeshall was born on 26 Sep 1717 in Newport RI and died about 1760 in Newport RI.)