Albert Lamb Lincoln
Born: 16 Jan 1811, Boston MA

Marriage (1): Ann Elizabeth Stoddard on 4 Jun 1833 in Boston MA

Died: 23 Feb 1903, Brookline MA
General notes:
Silversmith and jeweler
Events in his life were:

He was a partner in 1838-1848 with Gideon French Thayer Reed in Boston MA as LINCOLN & REED, with a shop at 65 Washington Street.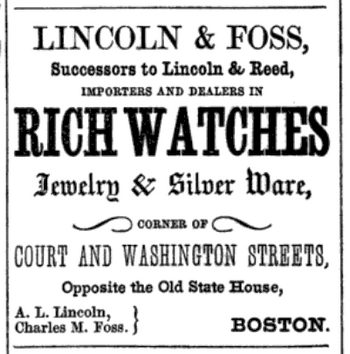 Advertised in the City Directory of Boston (Boston MA), 1848,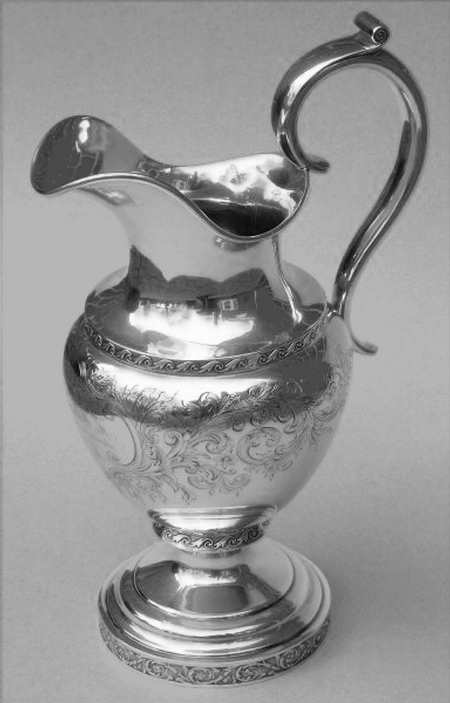 Pitcher by LINCOLN & FOSS, c 1850
Private Collection
h: 9 1/4" (to top of rim)
Engraved "In acknowledgment of the many kindnesses of William W. Warren, during a recent Foreign Tour; from his friend Mrs. H.L. Trull, Boston Jan. 1851" for William Wilkins Warren, merchant and philathropist of Boston.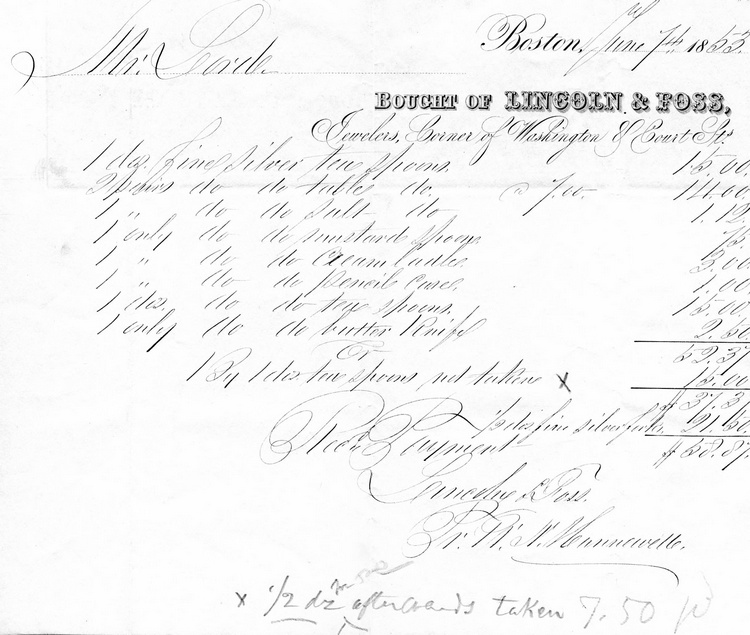 Receipt, 7 Jun 1853
Winterthur Library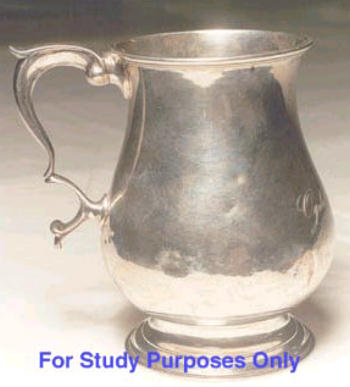 Cup, 1855-1865
Winterthur Library
h: 4 5/8"
dia: 4 5/8"
Engraved on side: Ogden Codman, Jr. / 1863.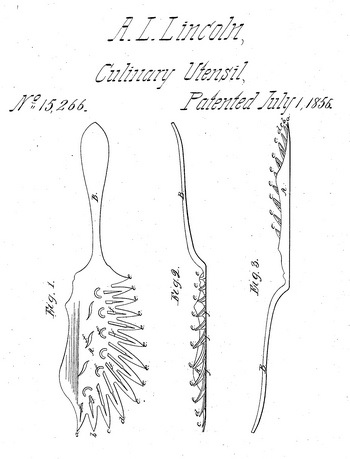 He was issued patent number 15,366 on 1 Jul 1856

ALBERT L. LINCOLN, OF BOSTON, MASSACHUSETTS, ASSIGNOR TO ALBERT L. LINCOLN AND CHS. M. FOSS, OF BOSTON, MASSACHUSETTS.

MACARONI-SERVER.

Specification, of Letters Patent No. 15,366, dated July 1, 1856.

To all whom it may concern:
Be it known that I, ALBERT L. LINCOLN. of Boston, in the county of Suffolk and State of Massachusetts, have invented a new and useful article of manufacture which I term a "Maraconi-Server"; and I do hereby declare that the same is fully described and represented in the following specification and the accompanying drawings, of which—
Figure 1, is a top elevation of such article. Fig. 2, a front edge elevation of it. Fig. 3 a rear edge or back view of it.
The purpose of the article in question is to enable a person to conveniently and readily remove cooked maraconi from a dish or to lift the same therefrom and transfer it to another dish, the instrument being an article of table service; it may also be used to great advantage in transferring various other kinds of vegetable matters from one dish to another.
It consists of a broad blade or plate, A. provided with a handle, B, and having a series of teeth a, b, c, d, e, e, e, &c., arranged and made to project therefrom as seen in Figs. 1, and 2, the arrangement of said teeth being very peculiar with respect to the blade, that is to say, they extend in a curve around one side and the front end of the blade, and not either sidewise or endwise alone therefrom.
The prongs or teeth of a common fork are usually arranged so as to project from its handle, in directions parallel to the axis of said handle extended; so in regard to the teeth of a common comb provided with a handle, they are usually made to stand at right angles to its axis, and do not project from the end, as well as, from the side of it,
Besides this, a common dinner table fork, and a comb made with a handle, are articles of manufacture of an entirely different nature, and are used for purposes differing from my macaroni server, whose prongs or teeth are disposed so as to extend from one side and from one end of it, such rendering the instrument very convenient for the use to which it is to be applied. The said macaroni server may be made of any suitable metal, or composition of metals; I usually prefer to construct it entirely of silver, but like many other articles in use for table service, it may be made of copper, German silver or other metal, and plated with either silver or gold, and ornamented according to fancy.
In the drawings, and particularly in Fig. 1, it is exhibited as provided with a series of openings or ornamental slots f, f, f, the same being for the purpose of discharging liquids which may be taken up with the macaroni and which it may be desirable to have fall back into the dish from which it may have been raised.
I claim as a new article of manufacture, and as of my invention,
The above described "Macaroni server," as made with its teeth or prongs arranged with respect to its blade substantially as specified.
In testimony whereof, I have hereunto set my signature, this twenty-second day of March A. D. 1856.

A. L. Lincoln

Witnesses:
R. H. Eddy
F. P. Hale, Jr.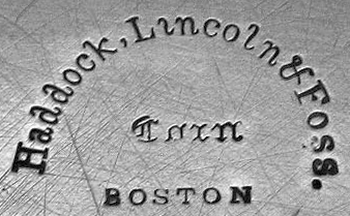 He was a partner circa 1857-1865 with Henry Haddock and Charles Foss in Boston MA as HADDOCK, LINCOLN & FOSS, listed in city directories at 13 Court Square.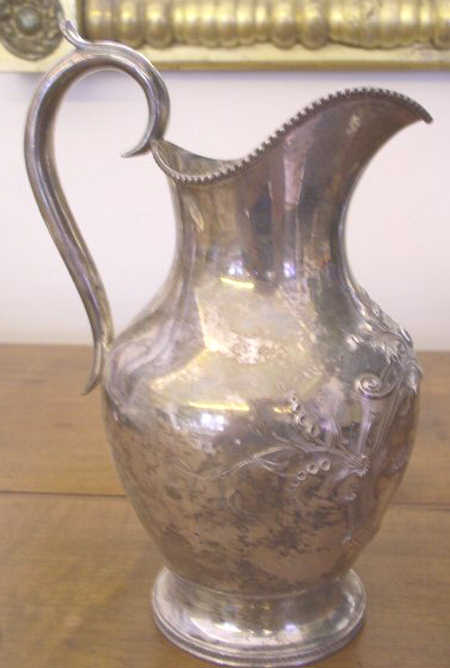 Pitcher by HADDOCK, LINCOLN & FOSS, c 1860
Private Collection
h: 9"
Engraved Mary Ann Capen / 1861.
He worked in 1865-1875 as a jeweler in Boston MA
Listed in city directories at 192 Washington (1870), 181 Washington (1872), and 343 Washington (1875).
Albert married Ann Elizabeth Stoddard on 4 Jun 1833 in Boston MA. (Ann Elizabeth Stoddard was born on 23 Feb 1814 in Brookline MA and died on 23 Oct 1895 in Brookline MA.)