Amos Sanborn
Born: 31 Mar 1812, Salisbury NH

Marriage (1): Emily Nichols on 12 Dec 1836

Died: Lowell MA
General notes:
Silversmith, jeweler, and watchmaker
Events in his life were:

He worked circa 1848-1866 as a silversmith in Lowell MA
Listed in the 1861 city directory at the corner of Central and Middle Street. 4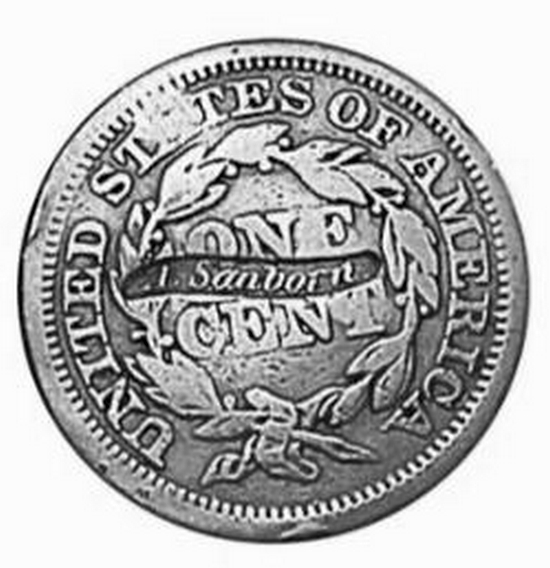 Token, c 1855
Private Collection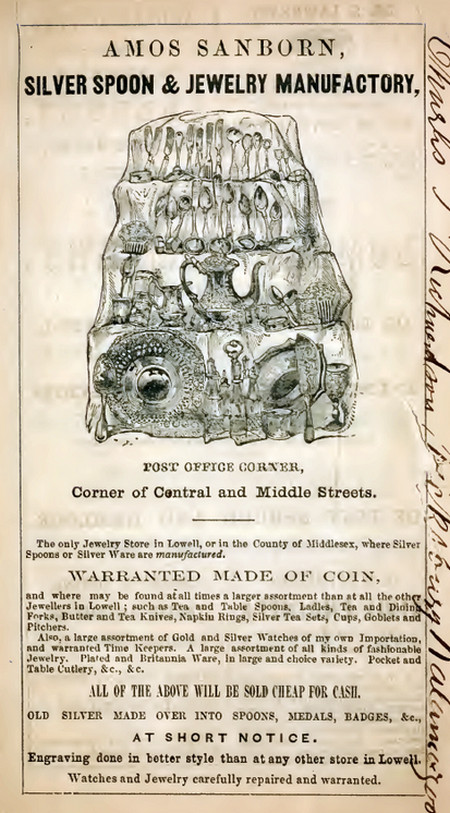 Advertised in the Adam's Lowell Directory (Lowell MA), 1855,
SILVER SPOON & JEWELRY MANUFACTORY,

POST OFFICE CORNER,
Corner of Central and Middle Streets.

The only Jewelry Store in Lowell, or in the County of Middlesex, where Silver
Spoons or Silver Ware are manufactured.

WARRANTED MADE OF COIN,

and where may be found at all times a larger assortment than at all the other
Jewellers in Lowell ; such as Tea and Table Spoons, Ladles, Tea and Dining
Forks, Butter and Tea Knives, Napkin Rings, Silver Tea Sets, Cups, Goblets and
Pitchers.
Also, a large assortment of Gold and Silver Watches of my own Importation, and warranted Time Keepers.
A large assortment of all kinds of fashionable Jewelry, Plated and Britannia Ware, in large and choice variety. Pocket and Table Cutlery, &c., &c.

ALL OF THE ABOVE WILL BE SOLD CHEAP FOR CASH.

OLD SILVER MADE OVER INTO SPOONS, MEDALS, BADGES, &c., AT SHORT NOTICE.

Engraving done in better style than at any other store in Lowell.

Watches and Jewelry carefully repaired and warranted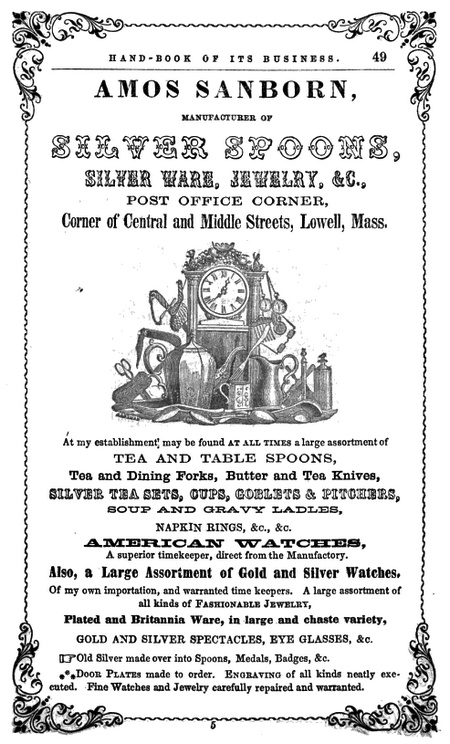 Advertised in the A Hand Book of Business in Lowell (Lowell MA), 1856,
Advertised in the Bangor Daily Whig and Courier (Bangor ME), 18 May 1861, as part of a group endorsement of the Waltham Watch Company.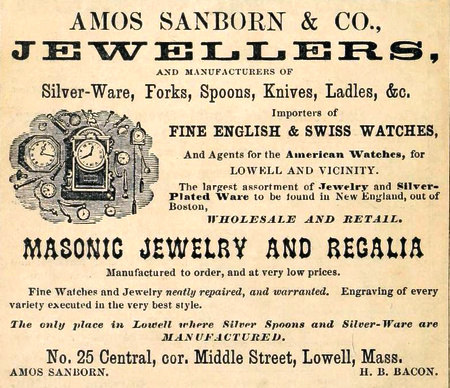 Advertised in the Lowell City Directory (Lowell MA), 1870,
Amos married Emily Nichols on 12 Dec 1836. (Emily Nichols was born in 1816.)