Noble Jerome
Born: 20 Dec 1800, Canaan CT

Marriage (1): Fanny Peck on 11 Dec 1823 in Bristol CT

Died: 1 May 1861, Waterbury CT
General notes:
Clockmaker
Events in his life were:
He was a partner in 1828-1833 with Chauncey Jerome, Elijah Darrow, and Chauncey Mathews in Bristol CT as JEROMES & DARROW.


He was a partner in 1834-1839 with Chauncey Jerome in Bristol CT c.& N. JEROME.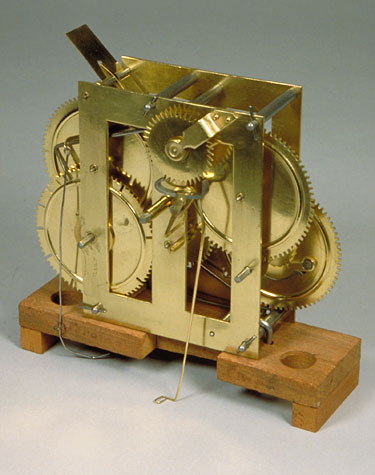 He was issued patent number 1200 on 27 Jun 1839 for a simplified brass clock movement, suggested by his brother, Chauncy. The patent records were destroy, but the submitted model is in the collection of the National Museum of American History.
Noble married Fanny Peck on 11 Dec 1823 in Bristol CT. (Fanny Peck was born on 25 May 1801 and died on 3 Jan 1873.)